Professional Pressure Washing Services in South Austin
It's no secret that Austin is one of the most up-and-coming cities in America. Living in South Austin gives residents proximity to the city, with the privilege of privacy and a slower lifestyle. Homeowners in South Austin who need a home exterior refresh have the fantastic option of power washing services. This title is often misleading, and people often misunderstand the power washing process. Our South Austin pressure washing team utilizes soft-washing techniques and pressure-washings systems to mitigate exterior damage and give your home the maximum cleaning it needs.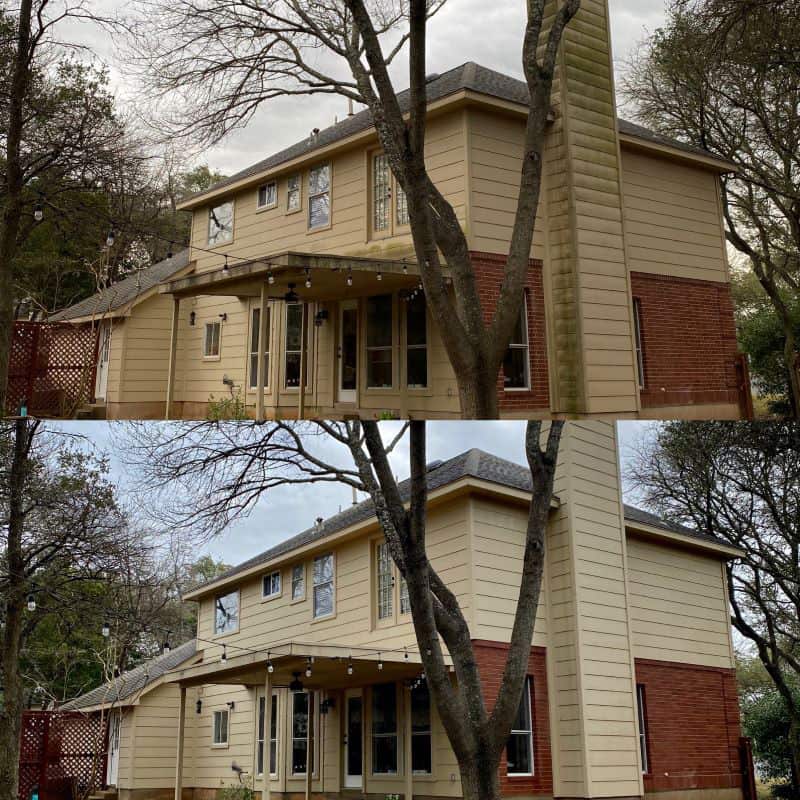 Soft washing is used more often than pressure washing, a fact that can surprise people. Though this system is not as well-known as pressure washing, it provides a vital service to the historic homes of South Austin. We use a low-pressure, high-water flow hose that relies on steady water flow and cleaning solution to deep clean the home's exterior. Unlike many other companies, we utilize eco-friendly cleaning solutions, so our soft washing process doesn't harm the beautiful Texas wildlife.
Pressure washing is more well-known than soft washing, which is ironic considering that it is often not the best choice for the job. This process uses incredible pressure, over 4,000 pounds per square inch (psi), to thoroughly clean surfaces. This method is only usable on flat, smooth surfaces such as concrete. For other surfaces, the high pressure can easily cause cracks and other damage. If you aren't sure what's right for you, we at Clean Green can help you develop a plan that will protect your investment and make your home look shiny and new.
Natural stone is a beautiful option for patios and outdoor fixtures in South Austin. Unfortunately, materials such as flagstone, limestone, and slate don't look new forever. Tree pollen and dirt make their way into these porous materials, and this encourages the growth of algae and other molds. This growth is unsightly, to say the least. Still, the buildup of these substances can also be problematic for allergy sufferers as well as create slippery, dangerous surfaces that are a hazard to your family and guests. Trust the experts at Clean Green to wash your natural stone — we ensure that it's clean and safe before we leave.
The other main option for outdoor patio materials is concrete. As you've likely seen on driveways and sidewalks, dirt and debris can get into the pores of the concrete, creating a dirty, weathered appearance that's not pleasant to look at. If your home has concrete patios or concrete driveways that are beginning to look old, you likely have a hard time making your yard look presentable as a result. Our experienced team can have them clean and guest-ready in no time.
It's no secret that wooden decks and fences are a gorgeous fixture in any yard. Unfortunately, the beauty doesn't last long, as the wood begins to look weathered and worn. Many homeowners believe that it's necessary to replace the wood when this happens. However, our experts at Clean Green use restoration and sealing practices to revive your old fence and save you thousands in replacement costs.
No matter how talented our team is, mother nature will always come back to create more damage. Surface sealing is a great way to protect these newly cleaned materials from the outdoor elements and keep them clean for longer. By sealing porous substances, we prevent mold, mildew, and algae growth for years to come.
Over time, your windows collect pollen, dirt, mold, and other contaminants. Keep your South Austin property sparkling with our professional window washing services. Pressure cleaning your windows will effectively and instantly wash away dirt, grime, and other contaminants.
If your South Austin oasis needs some exterior sprucing, contact the expert team at Clean Green Power Washing. Don't hesitate, reach out today.