Professional Pressure Washing Services in Round Rock
If you have been considering pressure washing to improve the look of your Round Rock, TX, home, it is important to understand the difference between pressure washing and soft washing. At Clean Green Power Washing, we employ both methods, but homeowners are often surprised to find that soft washing is the method that is usually best suited to cleaning a home. If you are thinking about hiring an experienced, professional company to power wash your house, consider the following services.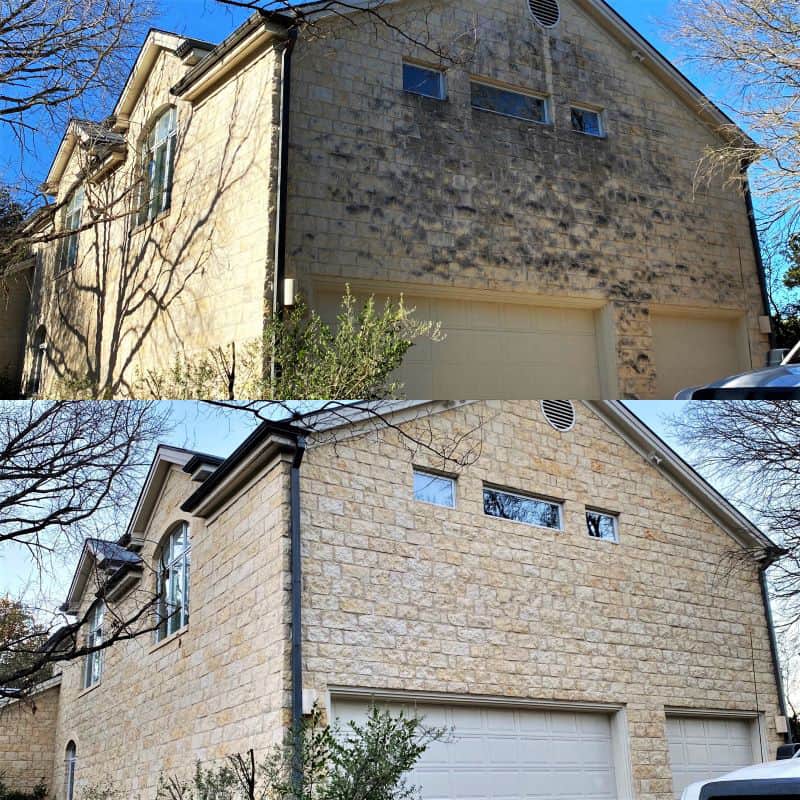 Soft washing is a process that uses machines that produce about the same pounds per square inch (psi) as a garden hose to clean your house. Low-pressure cleanings using high water flow are what we call soft washing. This is a highly effective process to get your house looking great because you don't want too much pressure that could damage the exterior products on your home. You can also rest assured that we won't be leaving dangerous chemicals behind, because we always use eco-friendly cleaning solutions to protect our environment.
Pressure washing is the method we use most often when cleaning concrete and flat surfaces. This process sometimes uses equipment that produces a psi of over 4,000. High-pressure cleaning effectively removes grime from strong surfaces that won't be damaged by the process. Our skilled team knows the proper amount of pressure to use for every unique job so that you get the results you want with no damage to your property.
Whether you have local limestone in your outdoor living space or products like flagstone, quartzite, and slate, the pros at Clean Green know how to clean these delicate, porous materials properly. Natural outdoor processes, like trees releasing pollen, contribute to organic growth on these materials over time. You need a good cleaning once in a while to keep everything looking fresh and well-maintained. Organic growth on these surfaces can also be a danger to your family, as it presents a danger of slipping, and it can also irritate allergies. Our technicians know the best processes to clean natural stone and make your beautiful patios look new again.
Organic growth doesn't just occur on natural stone—it also affects sidewalk and paving materials. The process is very much the same. Dirt and debris collect on your surfaces. Over time, the sun and shade that affect the area create a breeding ground for organic material that makes your surface look dirty and neglected. We can have your sidewalks and driveways looking like new in no time.
Dirty-looking decks and weather-worn fences are some of the most common types of wood restoration you may need around your house. These items are affected by the elements, just like stone, concrete, and home exteriors. At Clean Green, we know the different types of wood and the best products to get them looking new again.
One of the best ways to protect your outdoor surfaces from organic material growth is to have it properly sealed. The porous surfaces on your outdoor surfaces are why materials can get into the product and cause the growth of algae and fungi. Once the expert team at Clean Green power washed your outdoor surfaces, we can also seal them for you so that they will stay clean and beautiful for years to come.
If you need any of these power washing services to brighten up the look of your exterior and outdoor living areas, reach out to the skilled staff at Clean Green Power Washing at (512) 662-8422.