Professional Pressure Washing Services in Dripping Springs
If you're looking to keep your Dripping Springs home in pristine condition, it's likely that you've looked into power washing services at some point. To keep your home and yard looking fresh, a specialized exterior home cleaning will be necessary periodically. Going through the power washing process can be confusing, and many companies don't disclose the details of the project in order to hoard industry information and inflate profits.
At Clean Green, we do things differently. We believe in open, honest communication with our customers, and strive to give you all of the information available so that you can make the best decision as a consumer. Every home is different, and we believe as the homeowner, you have the right to make educated decisions about your investment. Some of our services may not be right for you, and we would rather you know that than trick you into paying for a service you don't need.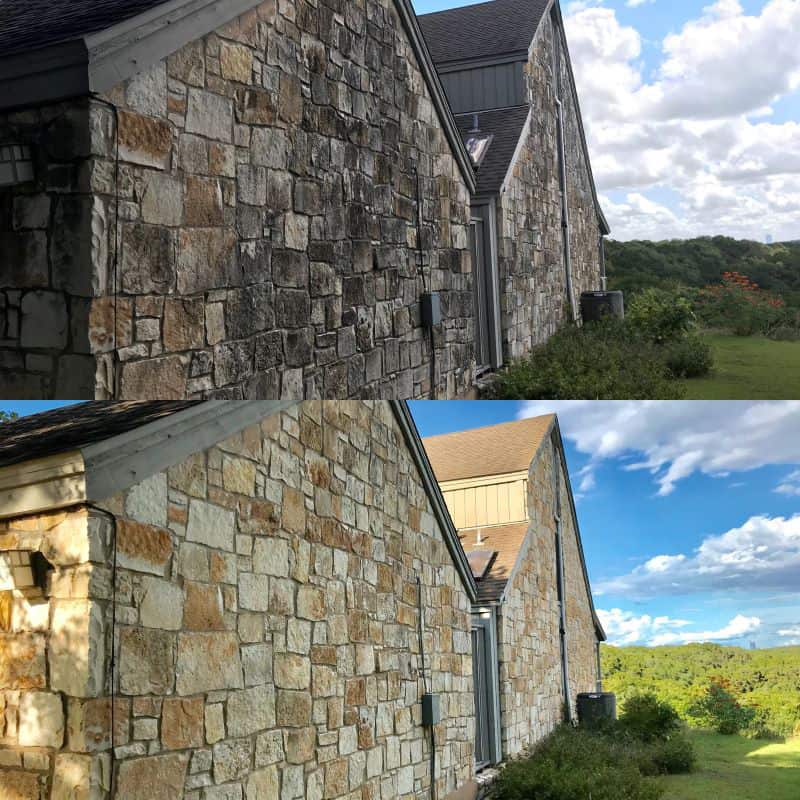 Pressure washing calls for 4000 psi of pressure to rid your home of organic debris that has settled there. This debris is usually made up of pollen, mold, dirt, and other organic materials and gives your home's facade a grimy or unclean appearance. The pressure washing described above is great for surfaces such as concrete that don't have any indents or cracks to speak of.
However, soft washing is used for the traditional and historic homes of Dripping Springs, Texas. Soft washing uses cleaning solutions and a continuous flow of low water pressure to clean surfaces. This gently cleans the debris from your home without adding unnecessary wear and tear to the materials. Where power washing can damage materials such as natural stone, soft washing delivers the same results without the risk.
Many power washing companies will not add sealants to areas that they clean. This is because they can make more money if you don't have the added protectant of a specialized seal. By installing a specialized seal on your stone facades, it can prevent cracking, repel debris, and increase the longevity of your investment. This specialized element ensures that you have the right seal for your unique structure, and the method has been personalized to fit your needs.
Whether your driveway is covered in organic growth or unsightly stains, we at Clean Green can help you get your driveway looking brand new again. While other companies shy away from certain stains, we embrace them. We use the power of science to approach each stain individually and provide a deep cleaning that's based upon the material that made the stain. It wouldn't make sense to treat all driveway stains the same, because they're all different! Our objective is to examine them and find eco-friendly cleaning products that will react with the materials in your driveway to release the stain and return your driveway to its former glory.
Areas such as decks and fences often face power wash cleaning. However, pressure washing is detrimental to the materials of your deck and fence and can cause more damage rather than good. Pressure washing often pushes debris further into the fibers of the wood, where mold and bacteria continue to grow. Here at Clean Green Power Washing, we are experts at wood restoration! We use soft washing techniques with a non-bleaching solution that cleans the wood on a molecular level without causing any damage and provide additional sealing services, keeping your wood protected longer.
Contact Clean Green Today
Whether you're in Dripping Springs or need pressure washing in Austin, no matter what your home looks like, natural materials such as pollen, mold spores, and bacteria can settle in the porous surfaces of your home's surfaces. If left uncleaned, these substances can damage your home and pose a threat to your family's health. For a solution that's safe, effective, and long-lasting, contact the experts at Clean Green Power Washing today!