Expert Pressure Washing Services in Leander
Clean Green Power Washing is the perfect solution for Leander, TX, homeowners who want to improve the look of their home's exterior. Many companies don't understand the differences between soft washing and pressure washing and the intricacies involved in using these two methods. We have the experience to know which process is best for the unique products you need to have cleaned outside your home, and we can safely wash the areas you need to be cleaned around your exterior without harming the environment.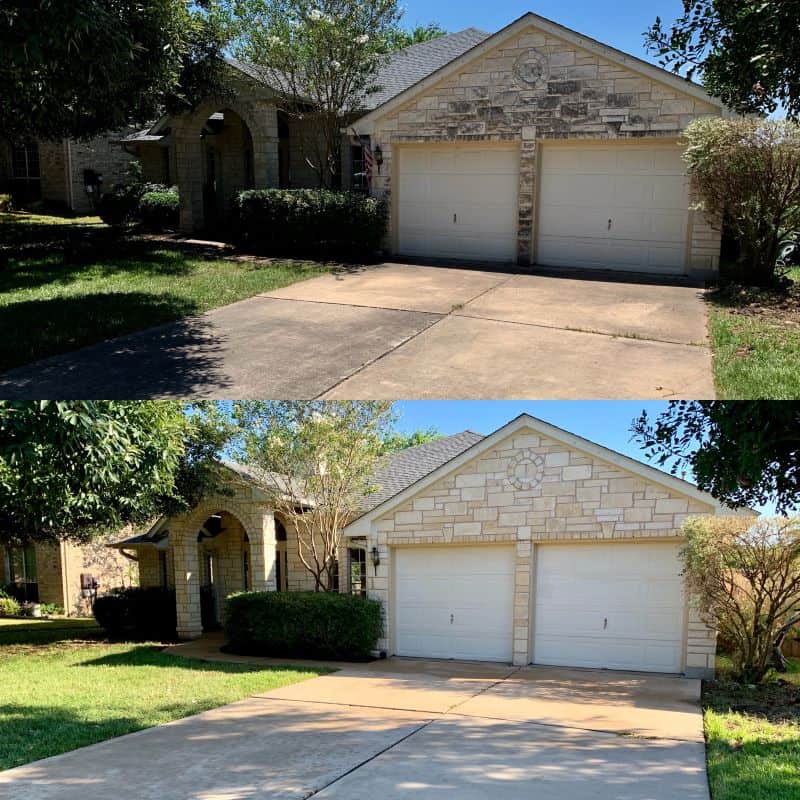 When our team uses the process of soft washing, we clean your exterior materials with low pressure, not unlike the pounds per square inch (psi) pressure of a garden hose. Low pressure and high water flow produce great results on delicate exterior materials without damaging the products the way high-pressure washing can. If you are concerned about cleaning chemicals that may harm the environment, you can lay your fears to rest, as we always use eco-friendly cleaning solutions.
Pressure washing is a more intense washing process that sometimes uses over 4,000 psi. This is a washing method that is often used on strong, flat surfaces like concrete. This type of pressure washing is sometimes necessary because many surfaces have porous materials that allow organic material to grow and take hold. Our skilled staff knows exactly how much pressure to use to remove these materials without harming your property.
You may not think about washing your roof very often, but there are times when this is necessary. Sometimes roofing materials experience growth of algae, mold, and fungus that mars their appearance and damages the shingles. If you see black streaks on your roof, you should call on a professional to clean it properly so that it doesn't become worse. If you notice any unusual discoloration on your roof, Clean Green can assess the problem and select the appropriate cleaning solutions to eradicate the growth. We know just how much pressure to use for every type of roofing material, and you don't have to worry about our professional team damaging your gutters.
Many homeowners in Leander have lovely patios constructed of quartzite, slate, flagstone, and local limestone. These natural products have porous surfaces that require special cleaning techniques, and the experts at Clean Green know the best methods for cleaning each type of stone. Debris like tree pollen can collect in the pores of these stone products and lead to organic material growth that discolors and damages the surface. Having your natural stone cleaned periodically will maintain its beautiful look and prevent organic growth from causing accidents like slips and falls. If you suffer from allergies, you will also find that a professional cleaning doesn't just make things look pretty, it relieves some of the allergens' effects on your system.
Just as harmful organic materials can grow on your natural stone, you may also experience the same problem with concrete sidewalks and other paving products on your property. When these surfaces get grimy due to the elements, the grime develops into organic growth that makes the concrete look old and dirty. Our skilled technicians know how to clean these porous surfaces and make them look like new.
Outdoor living spaces often include wooden fences and decks that homeowners want to protect because they are very costly to replace. If you have worn wooden structures around your home and yard, the Clean Green team knows the best methods to clean and restore all types of wood after they start showing signs of wear from the weather.
Once your outdoor surfaces are clean and beautiful, you will probably want to protect them from the forces that wear them out and make them look bad. Sealing your surfaces is the best way to protect porous areas and prevent algae and mold growth. If you want to keep your exterior looking spectacular year after year, our technicians can properly seal your surfaces to protect them from the elements.
When you need a skilled team to power wash any part of your exterior to improve its look and protect your home, Clean Green Power Washing is here for you. Call us today at (512) 662-8422.