Our Approach
The mobile pressure washing business is a solution to a major problem; namely, how to keep things clean. The issue that dirt can be destructive to an image, can cause annual repairs, renovations, or replacement, and the need for an effective cleaning processes exists. The United States Environmental Pollution Association claims that gas-powered landscaping maintenance engines, including pressure washers, accounts for 5% of the nations air pollution. While there are many companies that provide these services, only a few select companies can truly distinguish themselves as eco-friendly, yet they are all still using gas powered engines. These type of companies cater towards a "get it done, easiest way possible, regardless of our planets health" attitude. We are on a mission to set the bar higher by using reusable energy. We're thankful for our community, and the growing awareness it has towards the standard that we wish to withhold; thus pledge to be reliable in saying how and when the job will be done. We aren't just fully committed to giving back to the community, but also the planet. Clean Green Power Washing is determined to be the first electric and solar-powered pressure washing business in Austin.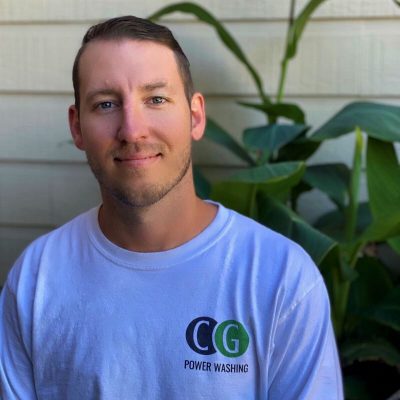 Bryan Gerhold
CEO/Founder | Pressure Washing Pro
As a young boy, I can remember the endless summer hours broiling in Houston humidity, meticulously herding dirt and grime down my parents driveway. Although I was exhausted, I found a sense of tranquility because I could see the transformation occur immediately before my feet. For me, pressure washing is gratifying. Now that I'm older, I see the opportunity for both personal growth and of that from within the industry itself.
I have always been conscious of our planets health. My parents raised me to recycle, turn off lights when they weren't needed, and use methods that consumed minimal resources. On my journey to become an Eagle Scout, I participated in numerous activities which further opened my awareness, and I continued to make decisions that reflected my education.
I went on to study Mechanical Engineering at the University of Houston. During my time as a college student, I began to question my path, and wonder if the road I'm taking will allow me to maintain my individualism. The more I learned, the more I understood about myself and the direction I should take.
I decided to move to Austin in 2012 and continue following my passion for creating a greener world. In 2018, I purchased my first pressure washer and started what is known today as Clean Green Power Washing. I was filled with entrepreneurial excitement and translated my environmental friendly vision into my company. I used only eco-friendly detergent, no harsh chemicals, and cleaned residential houses with a fully electric pressure washer. I quickly learned that using an electric pressure washer is more challenging than I had expected. Within the first year of business, I had burned through two industrial grade electric pressure washers and realized that I was sacrificing efficiency. In conclusion, I discovered that almost every fully electric pressure washer available on the market lacked the juice to remove stubborn stains and complete jobs within a timely manner.
Through this discovery, I remained determined and began to research alternate routes without sacrificing green energy or washing power. I consulted with my most trusted electrical engineer and father. We began to brainstorm innovative ways to accomplish my goals, and in turn began the design stage for a gas powered-electric conversion using portable batteries.
Until I have the resources to make this dream a reality, I am fully committed to giving back to the community by donating a portion of my profits directly to Austin's Environmental Defense Fund, and am currently a subscriber to The Austin Common (formerly known as the Austin EcoNetwork), hosted by Austin Climate Alliance, a group of organizations and businesses committed to impacting the climate crisis right here in Central Texas.
With your help, I will make my dreams of becoming the first pressure washing company to use reusable energy a reality.