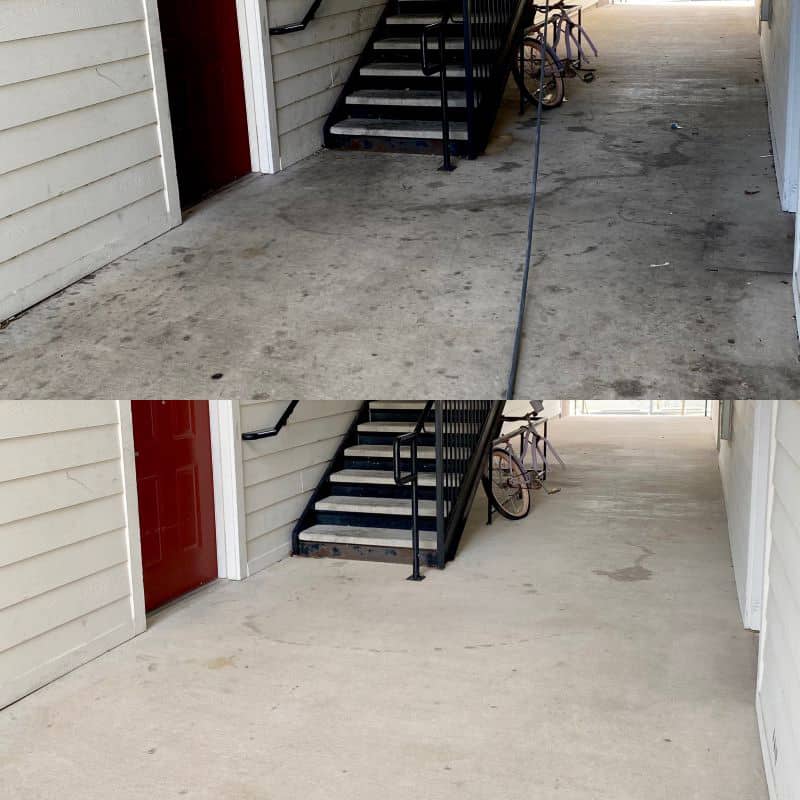 Apartment Complex Pressure Washing
If you own an apartment complex, you know that maintaining curb appeal is necessary to staying on top of the market and attracting and retaining your customers. You also know that regular maintenance and repairs to your building can be quite costly and time-consuming. By having your building's exterior cleaned and pressure washed professionally, you can improve its look while getting rid of harmful dust, dirt, grime, mold, and the other built-up particles that can lead to costly repairs. At Clean Green Power Washing, we use bio-degradable, eco-friendly cleaning options to clean your building without damaging any surfaces.
Post Construction Cleanup
Post-construction cleaning requires a lot of knowledge and expertise, and our trained technicians have both. All too often, we see the exteriors of newly built homes and commercial buildings damaged by a botched cleaning job. The building is finally finished, and new homeowners or contractors want to save a few bucks by hiring the general "cleaner guy" to come in and do some final pressure washing. Unfortunately, many find that the money they thought they saved by hiring a cheap, unskilled cleaner is soon spent making costly repairs to damage caused by that same cleaner.
You can avoid unnecessary repairs to your new investment by hiring the trained, professional cleaning technicians from Clean Green Power Washing. Our experienced technicians understand how to properly and safely clean vulnerable new concrete flatwork, exterior insulation and finish systems, and mortar tags on masonry. You can also trust our technicians to remove construction materials and debris on glass, wood, masonry, drywall, and vinyl safely, to properly treat tempered glass, and more. When it comes to post-construction cleanup, invest in quality, professional commercial cleaning to ensure no harm comes to your property.
Storefront and Graffiti Pressure Washing
How your business looks on the outside is undeniably important. We understand that in this competitive market, it's important to keep your business looking its best and to keep your customers and employees happy and safe in your establishment. A complete storefront cleaning can safely remove dirt, grime, mold, and even graffiti from your building's exterior surfaces. Our highly trained and skilled technicians are equipped with eco-friendly, bio-degradable detergents combined with top-of-the-line Austin pressure washing equipment. We can remove the toughest pollutants from the most delicate surfaces and keep your business looking warm and welcoming to your clients and guests. Trust our commercial pressure washing team to deliver superior results and help maintain your establishment's good reputation.
Pressure Washing for Parking Lots and Garages
You may not usually think of your parking lot or garage as an important part of your business, but maybe you should. Where your customers park their car is the first place they see before they head through your door. If your parking area is covered in stains, spills, gum, dirt, and grime, it will give them a poor first impression. Keeping this area clean and inviting from the moment clients step out of their cars will set them at ease and show that you take pride in maintaining your business's quality and cleanliness. Concrete pressuring washing is truly the most effective and safe way to clean a parking lot or parking garage. We always use eco-friendly, biodegradable detergents and top-of-the-line power cleaning equipment to remove even the toughest stains. Clean Green Power Washing can remove oil and oil stains, rust, grime, grease, graffiti, and gum from your parking area. Trust our skilled technicians to complete the job efficiently and safely and give your clients that perfect first impression.
Commercial Roof Cleaning—Soft Washing
Your business's roof is its first line of defense against the elements and one of your commercial property's most important structural features. Here in Austin, our homes and properties are roofed with a variety of materials, all of which are highly susceptible to accumulating organic growth. While this growth may seem harmless at first, if you leave it untreated, it can create an environment habitable by more harmful species, such as airborne algae and lichen.
Lichen contains an acid capable of penetrating the substrate and causing excessive damage to your roof. Not only can this greatly damage your property, but it can also transmit irritants to your clients or employees with mold or fungal allergies, making your business unsafe and hazardous. Our technicians here at Clean Green Power Washing are trained to use special low pressure/high volume soft washing techniques to clean and disinfect your property's roof.
You can trust us to safely and completely remove harmful growths, which, left unmanaged, could lead to needing a full re-roofing. As a business owner, you know how important it is to maintain a clean and safe environment for your staff and clients. When you're ready to have your roof professionally cleaned and disinfected, Clean Green Power Washing will do the job correctly.
Commercial Pressure Washing Service in Austin
Over time, your commercial property will become dirty and stained from normal aging, weather conditions, and pollution. It's crucial as a business owner to keep your place looking clean and inviting to potential customers. At Clean Green Power Washing, we understand how important it is to get the job done right the first time. We make it our mission to meet your standards and leave your business spotless. Our Austin commercial pressure washing team will completely clean and disinfect your establishment with our effective eco-friendly solutions and leverage years of experience to determine the best method to get the job done. Contact us today and send us a message for your free quote or call us at 512-662-8422!