Professional Pressure Washing Services in Cedar Park
If you have never considered power washing as a way to beautify your home and increase its value, now is the time. Cedar Park, TX, homeowners have often heard of power washing but don't know that there are specific ways to wash unique surfaces, using soft washing and pressure washing. Clean Green Power Washing is your local go-to company that knows how to properly use each of these methods. If you need some cleaning around your exterior, consider our professional services.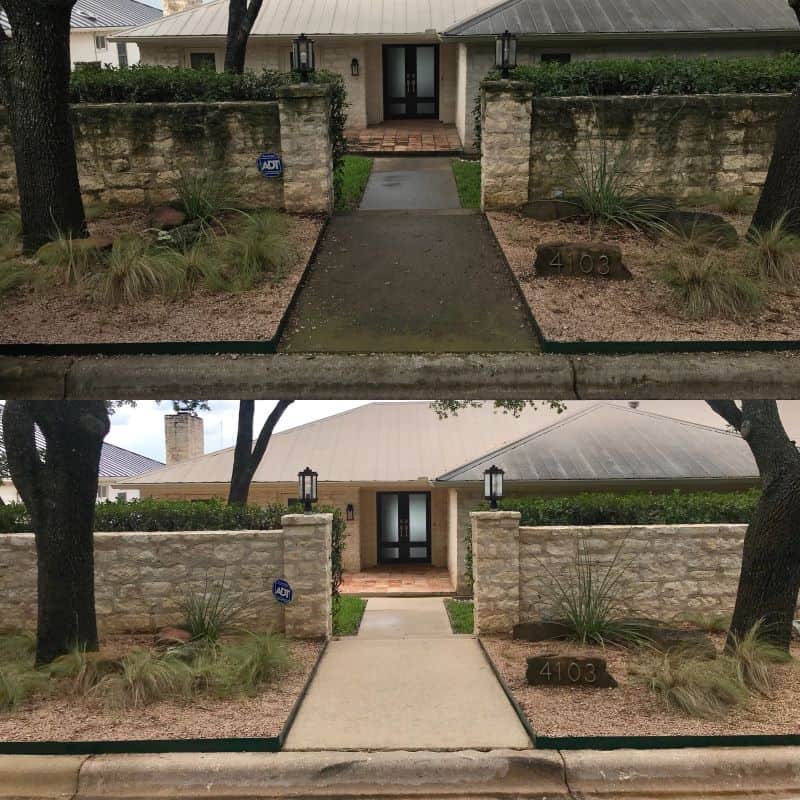 The soft-washing process is best used on home exteriors that require a gentler touch. The pressure used is often no greater than that of a garden hose, but it produces a lasting effect when combined with high water flow. Our team can use this method to have your home's exterior looking spectacular without leaving dangerous cleaning chemicals behind that are not good for the environment. Our eco-friendly solutions are perfect for the Cedar Park home.
Pressure washing is a little more powerful, and it is very effective on surfaces that are riddled with grime and organic matter. This method uses the pressure of as much as 4,000 pounds per square inch (psi) and gets into the porous surfaces of many natural materials to release the organic materials that make them look dirty. Our technicians are experts in their field, and they know just the right method to use when cleaning outdoor areas of your property.
Natural stone is one of the most popular choices to use for patios and pathways in home landscaping. Limestone is commonly used in this area, but other products like flagstone and slate are also used frequently. These materials have a porous surface that is prone to collecting tree pollen and other debris that results in the growth of organic materials that damage these surfaces' look. The build-up of this material can also irritate allergies and create a slippery surface to walk on, so it is best to have a professional cleaning from time to time. The Clean Green staff has handled many natural stone cleaning jobs, and we know just how to get your patio surfaces looking like new.
If your sidewalks, driveways, and patios are made from concrete, they also have a very porous surface, just like natural stone. This means they undergo the same natural processes that combine dirt, rain, sun, and shade to allow organic materials to grow on the surface and cause it to look old and worn. If your concrete surfaces don't look as bold and attractive as they did when they were first poured, Clean Green can restore their beauty.
When homeowners install wooden decks and fences, they often neglect the fact that these surfaces will be affected by the elements after a few years. When they start to show their age, it is time to call on the pros at Clean Green to assess the type of wood used and choose the best products to restore the surface and get them looking great.
If you want to protect your outdoor surfaces from the growth of damaging organic material in the future, having them professionally sealed is your best option. When you have the porous surfaces sealed with the appropriate product, the debris that causes algae and fungi to grow can't penetrate the surface, and it maintains its look much longer. The experienced technicians at Clean Green can clean your outdoor surfaces and seal them to protect them from damage due to the elements.
If you have been looking for the best Austin pressure washing crew to wash your home's exterior in the Cedar Park area, call on the team at Clean Green Power Washing at (512) 662-8422.