Professional Pressure Washing Services in Driftwood
Driftwood is a beautiful place, and living here is a great joy for many people. Most residents take pride in their hometown, and part of that pride is keeping our homes and yards looking well-kept and clean. When you live in an area such as Texas, it's common to find homes that have historical value. As they age and natural weather patterns take their toll, it's easy to accumulate grime and dirt on several surfaces on your property. While this is no fault of yours as the property owner, it should be addressed to keep your home looking in tip-top shape for years to come.
At Clean Green Power Washing, we provide the citizens of Driftwood, Texas, with high-quality cleaning techniques to help maintain the area's historic homes and keep the city of Driftwood looking clean and bright.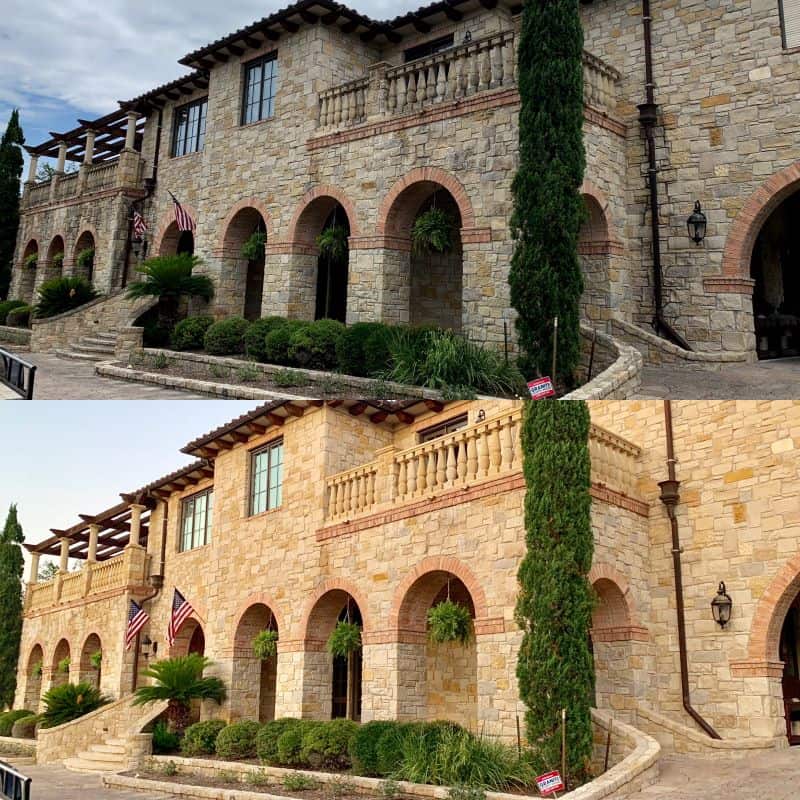 The first decision to make is what kind of washing process will be best for your home. Many people are familiar with pressure washing, which uses about 4000 psi (about 27 times more powerful than a garden hose) of pressure to clean surfaces of dirt, grime, mold, and other debris. This tactic is great for flat surfaces, such as concrete, and gets the job done quickly.
Many customers are surprised to learn, however, that a much lower pressure is better for most jobs. Soft washing involves using eco-friendly cleaning solutions, soft bristle brushing and a continuous flow of low water pressure to clean surfaces. This method delivers the same results as power washing but without the wear and tear. For many of the old, historic homes in Driftwood, Texas, the soft washing method allows us to clean the surface without creating any damage to the integrity of the home.
One of the perks of living in Texas is the year-round access to the outdoors. Though the weather here is generally lovely, the summers are prime for outdoor activities, barbecues, and hosting friends and family. One of the primary locations for such summer gatherings is your home's deck or porch. Many homeowners don't realize that pressure washing is a huge mistake when it comes to caring for your wood.
Pressure washing only yields temporary results and pushes mold and mildew further into the wood. This means that once dried, your porch will look the same or worse than before, and you will have the same issues as you did when you started. Other companies use soft washing techniques but use bleach or other chemicals that permanently damage the wood. At Green Power Washing, our wood restoration services aim to revive wood, not strip it. We deep clean with an eco-friendly solution that safely cleans the wood and have additional sealing services to protect from future damage.
Clean Green for Your Health
If you have a wood deck, stone patio, or roofing of any kind, it's imperative that you seek cleaning services regularly. Natural materials such as pollen, mold spores, and bacteria accumulate within the porous surfaces of most home materials. If left unattended, these substances can cause significant rot and damage to your home. The overgrowth of mold and bacteria is also a health hazard to your family, presenting an opportunity for agitated allergies, asthma attacks, and respiratory disease. By having your natural stone patio, decks, walls, and roof pressure- or soft-washed, you mitigate the risk to your family and protect your home from decay.
The Clean Green Way
Our competitors have money at the forefront of their business practices. Many of these businesses will recommend tactics that provide only a temporary, visually pleasing fix, knowing that you will need to have the process done again in the near future. This is not how we run our business at Clean Green Power Washing. We spend time to make sure the job is done correctly, ensuring that your home stays clean for the longest period of time possible without causing any damage to the building materials.
Our eco-friendly practices are good for the environment and safe for your family's health. Though it means that we may lose money, we take pride in doing the job correctly, so you don't have to make repeat appointments or have frequent cleanings. We truly care about the health and integrity of your home and family and do everything we can to provide cleaning that supports that. To get started, fill out a new request form on our website today.