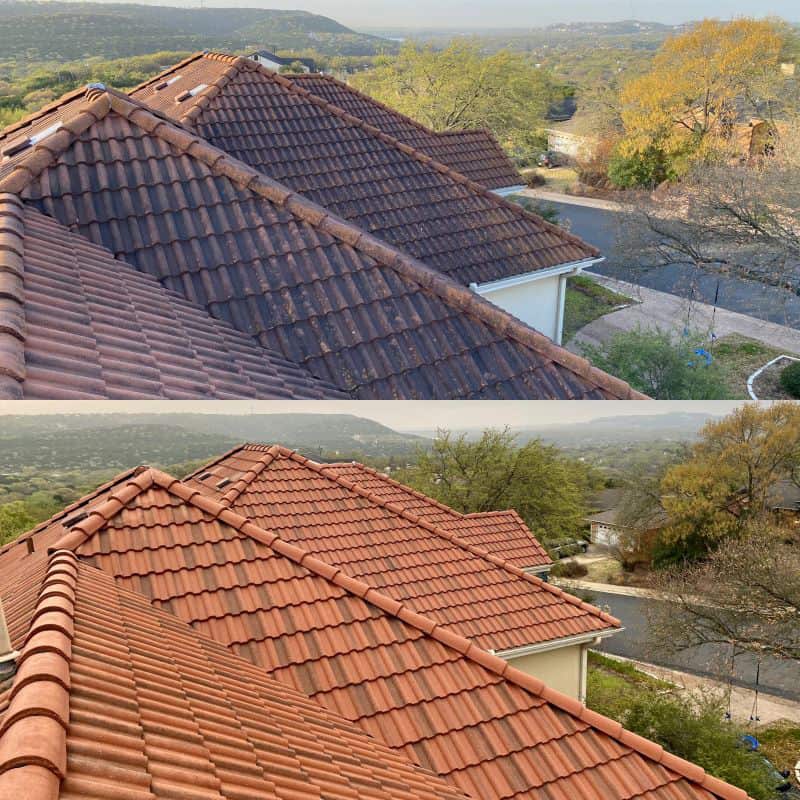 Is Your Austin Roof Dirty or Contaminated?
Your home is a big investment, and your roof is your home's first line of defense. Pressure cleaning your home and roof is critical to extending the life of your asset. In Austin, we have a wide variety of roofing materials from asphalt shingles, bare and painted tin metal, copper, Spanish tiles, composite tiles, and even natural slate tiles. All of these roofs play a role in protecting your family from the elements, and over time they accumulate a variety of organic growth. While early stages of accumulation can seemingly be cosmetic in nature, they also begin to harvest an environment for more destructive species to inhabit.
One of the first harmful species to start living on roofs is an airborne algae, known as Gloeocapsa Magma. The beginning stages of this algae can be identified by running black streaks which feed on the limestone filler in asphalt shingles and other roofing materials. The formation of Gloeocapsa can be particularly noticeable on the north and west facing planes of your roof and home. When left untreated, they blanket its substrate, and become the ideal feeding ground for a more invasive species, such as lichen. Lichen is a combination of algae and fungus, appearing individually as a circle the size of a dime with tones that range from light green to black. This airborne species, transfers from high overhanging tree limbs and contain acidic properties that penetrate into your roof's substrate.
The combination of these two species will not only leave your roof stained and raging war against your shelters, but also transmit irritants to those nearby with mold and fungal allergies.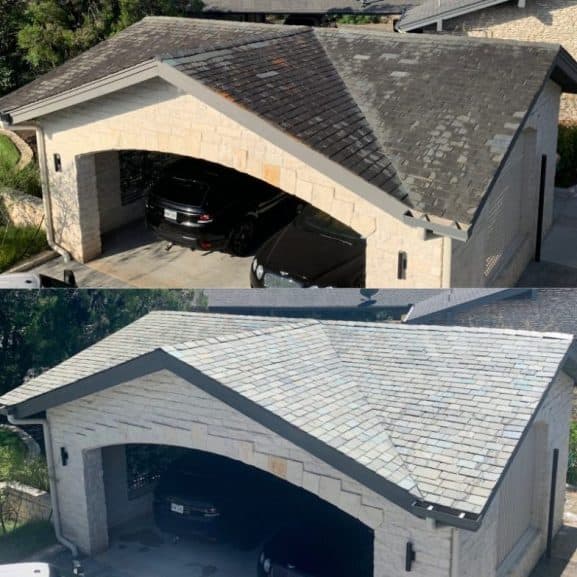 To Clean or Replace?
Although the concern to put a stop to this contamination is legitimate, don't be fooled by roofing contractors who insist, "Your entire roof is at its limit and needs to be replaced". Not only is this route costly, but is also producing unnecessary waste. Why add to our ongoing trash crisis by retiring a roof that only needs to be cleaned and disinfected? In the past, cleaning a roof meant having a crew of power washers climb up and shuffle steep pitches, producing damaging results from high pressure blasting across an already compromised surface. Regardless of the damage pressure washing a roof will cause, your roof is now temporarily cleaned, but within 6 months the stain returns. This happens because pressure washing a roof with just pressured water only removes the topical deposits of the algae, leaving the remaining roots to exponentially reproduce. Allow Clean Green Power Washing to show you how we keep your Austin roof cleaner longer, extending the life, with an innovative, manufacturer certified technique known as soft washing.
Why Choose Clean Green Power Washing?
At Clean Green Power Washing, we never use high pressure on roofs and operate with designated low pressure/high volume systems to clean and disinfect your roof safely. Rest assured that you will never see our team struggling to maintain footing on a steep pitch or trampling over delicate tiles because the majority of our roof soft washes can be done from the ground or ladder. Each one of our ladders operates with adjustable footing and secured stabilizer bars so that our technicians are safe and your gutters are untouched.
Actually, your gutters will be touched, but not with unnecessary weight, because with all of roof soft washes, we also include gutter cleanup and downspout rinsing. Our innovative system proportioners allow us to control the quantity of industry-standard surfactants and precisely apply each incline with a consistent solution. During the application process, our team of professionally trained technicians will be constantly protecting all areas subject to overspray.
Lastly, after a period of solution dwell time sufficient to lift heavy organic growth, our team works together and goes the distance to thoroughly rinse your roof with pressure equivalent to a household garden hose. We believe, and have made it our policy to always rinse, rinse, rinse! This final process not only ensures that your roof is left spotless and decontaminated of deep dwelling fungal roots but also completely free of our eco-friendly cleaning solution. When looking for a pressure washing company in Austin to clean your roof, trust Clean Green Power Washing; specialists in extending the life of your roof and keeping your family safe.
Contact us online or call us at 512-662-8422 for your free pressure washing quote!