Professional Pressure Washing Services in Lakeway
Homeowners in Lakeway, TX, who are looking for the best way to get their home exterior looking like new find that power washing is a great option. This process is often misunderstood, and people often fear that the high pressure will harm their exterior. Clean Green Power washing uses both soft-washing and pressure-washing methods when cleaning exteriors, though. If you need an experienced team to clean your exterior, we are the local experts.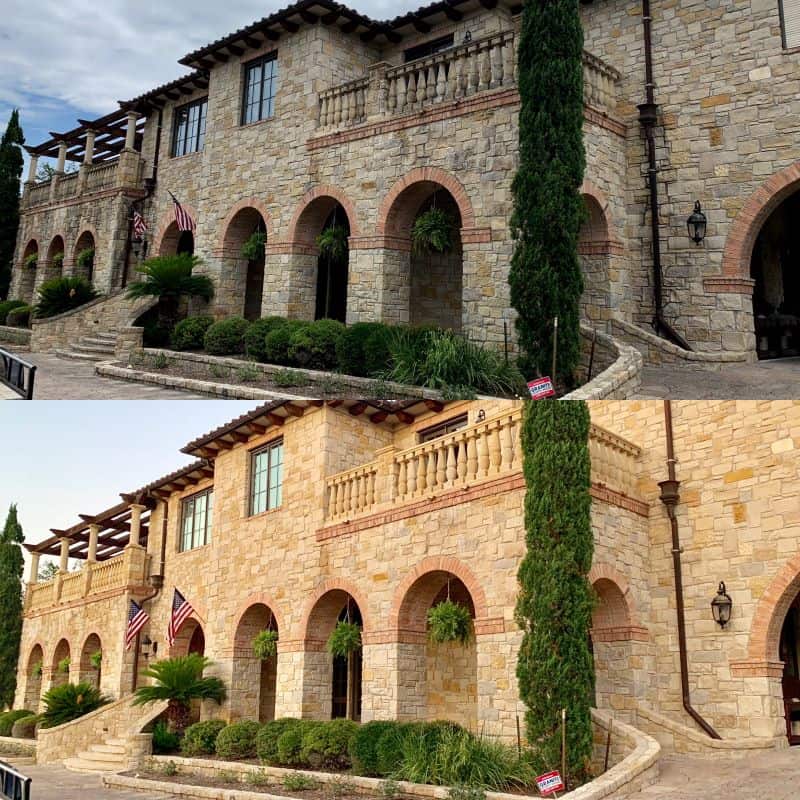 Soft washing is the method we use most often when washing delicate exterior materials. This process uses a low pressure, high water flow method that beautifies the home without causing any damage. We are also concerned about the effects of cleaning solutions on the environment, so we always use eco-friendly cleaners on your home cleaning projects to protect the world we live in.
On the other hand, pressure washing is the method most people think of when they picture power washing. This process often uses over 4,000 pounds per square inch (psi) of pressure to get into stronger exterior materials that need a thorough cleaning. No matter your needs, the experts at Clean Green know the best methods to employ and the appropriate cleaners to use to get your home looking like new and improve your curb appeal.
If you have a patio made from local limestone at your Lakeway home, you know how beautiful this natural material is when you first have it installed. Unfortunately, products like limestone, slate, and flagstone begin to look old and weathered after a while. This happens because tree pollen and dirt get into the pores and facilitate the growth of organic materials that mar the stone's appearance. On top of being unattractive, this build-up can irritate allergies and create slippery surfaces to walk on. When you trust the team at Clean Green to wash your natural stone, we get it looking like new in no time.
If you don't have a natural stone patio, you likely have concrete. This is a popular material that is also used for sidewalks and driveways in the area. Because it also has a very porous surface, organic materials can grow on the concrete and cause it to look weathered and dirty. If you have concrete patios or driveways that haven't been cleaned in years, chances are they are bringing down the look of your whole exterior. Our skilled staff can clean them up and brighten your outdoor space.
When homeowners install gorgeous wooden fences and decks in their exterior living spaces, they blend in with the surroundings' natural beauty to create a stunning look. Unfortunately, the weather starts to take its toll on the wood after a few years, and homeowners start to think they need to invest in a replacement. Many times, though, Clean Green can restore your wooden features and protect them from the elements.
The Clean Green technicians are highly skilled at cleaning your exterior home features, but once they are finished, the forces of nature go back to work at making them look dirty again. If you want to protect your surfaces and keep them looking great, surface sealing is another service we offer. The products we use help seal porous surfaces to protect them from algae's growth and mold and keep them looking beautiful for years.
Dirty windows can make your Lakeway home or business look unkempt and unappealing, both inside and out. Over time, this can cause damage to the glass, resulting in cloudiness and reduced visibility. Additionally, they can prevent natural light from entering, leading to higher energy bills. By keeping your windows clean and clear, you can protect your home's value, improve its overall appearance, and make it more energy-efficient. Contact our professional window cleaners in Lakeway, Texas to restore your property's shine today!
If your Lakeway, TX, home needs a little sprucing up around its exterior, there is no other team to call on but Clean Green Power Washing. Reach out to us today at (512) 662-8422.