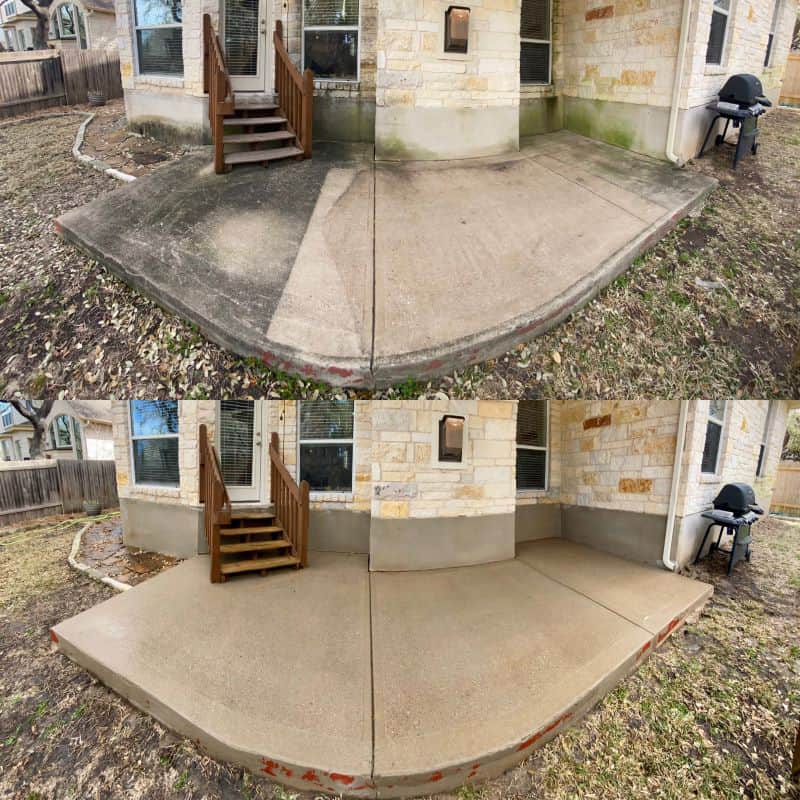 What Kind of Stain Do You Have?
When it comes to curb appeal, your driveway, walkway, and porch are the first thing that guests notice. These areas can take a beating — especially if you're a commercial business! When you're sitting bumper to bumper in Austin traffic, your vehicle is constantly gathering dirt from the millions of other vehicles we share the road with. The second you pull up to your home, the grime that has built on our congested roads, is now on your driveway. Our technicians at Clean Green Power Washing are stain recognition experts. There are many variations of stains that can be seen on a single driveway, porch or patio. Some are easily noticeable, but others require a trained eye with a little investigative work.
Stains are classified into two main categories:
organic or inorganic.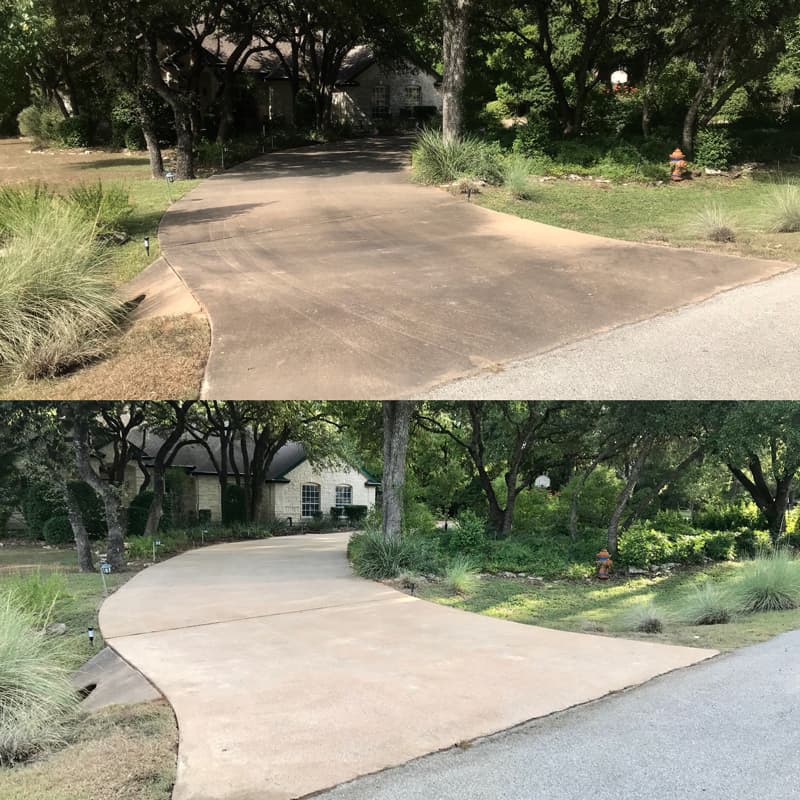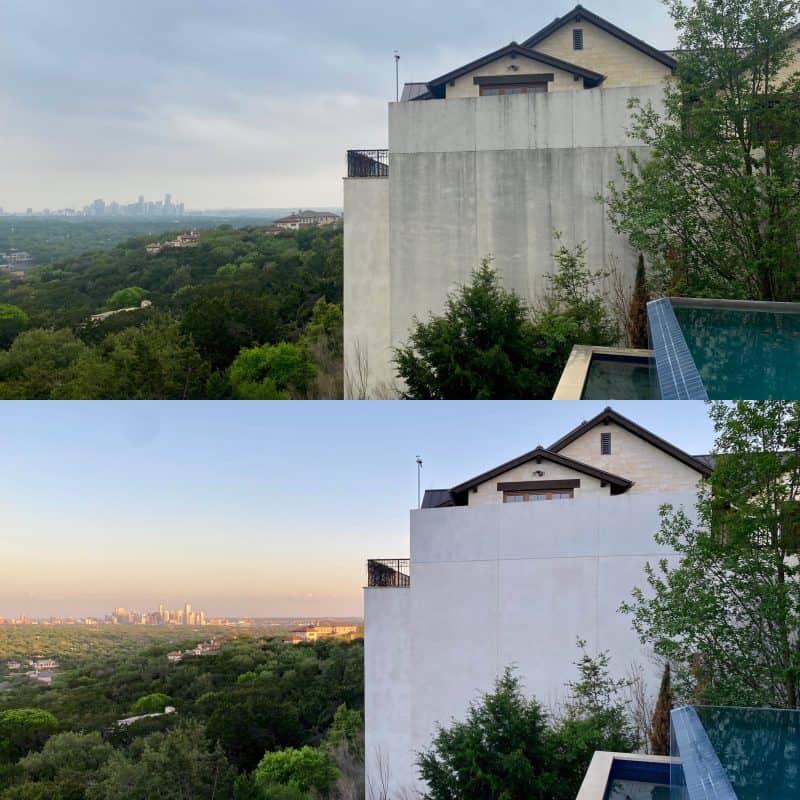 Is Your Driveway Dirty or Contaminated?
As fellow Austinites, we feel blessed to be located in a city rich with nature. Most of our neighborhoods are embedded in the greenbelt surrounded by many species of trees from cedar, oak, pecan, and many more. Unfortunately, besides the seasonal allergies, our abundant vegetation can also contribute to your driveway's cleanliness and overall health. Driveways that are left untreated become covered in living bio-organisms, with layers of organic growth. It starts with the grime and dirt that blankets your driveway. Add in some rain, a little bit of shade from the setting sun, and mother nature transforms your driveway into the perfect environment for organic growth to flourish.
Organic growth comes in many forms, from deteriorating leaves, acorn and pecan tannin stains, to green algae, and finally moss or lichen. As the law of nature dictates, it is an organic eat organic world. Not only does this diverse landscape become extremely slippery, but can also lead to serious structural damage. Lichen is basically micro plants with acidic properties that root themselves into the surface on which their food supply lives. When untreated, they can deteriorate the laitance or top layer of any substrate, consequentially weakening the concrete. Depending on how long these organisms have been attacking the surface, the damage can range from permanent discoloration to significant cracking.
Clean Green Power Washing specializes in techniques to safely and completely remove any form of organic growth. Our top of the line surface cleaners uses safe pressure with superheated water to remove all topical debris. We then apply an eco-friendly, odorless solution to lift the roots of the remaining organic growth. Finally, true to our name, we thoroughly rinse your driveway and collect the wastewater with our state-of-the-art reclaim systems. After, we recommend sealing your concrete surfaces once they've been pressure cleaned to keep them free from future contamination. When choosing which pressure washing company in Austin to clean your driveway, rest easy knowing that Clean Green Power Washing will leave your high traffic areas safe to walk on, healthy, and even resist the return of organic growth.
Stains That Other Companies Run Away From
Now that your driveway and other walkways are free of organic growth, you might find that the surface is still left with additional stains which you never knew were there. Clean Green Power Washing knows stains, in fact, we love stains! We find joy in dissecting the dirtiest, deepest most repulsive stains that other pressure washing companies would walk away from. With the arrival of this new discoloration, we now enter the realm of inorganic stains. Inorganic stains derive from man-made issues, and are considered nonliving.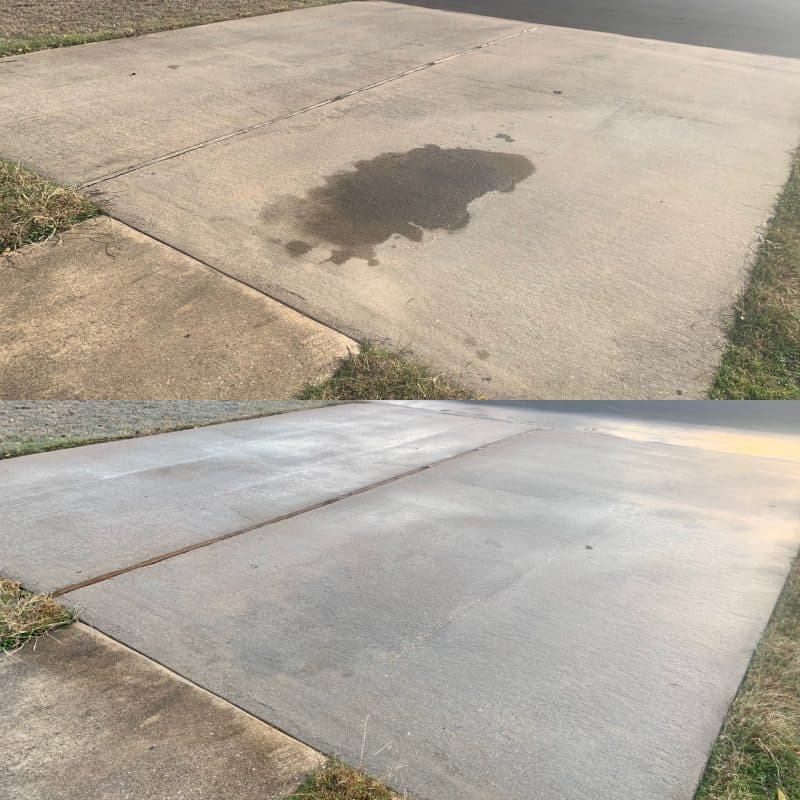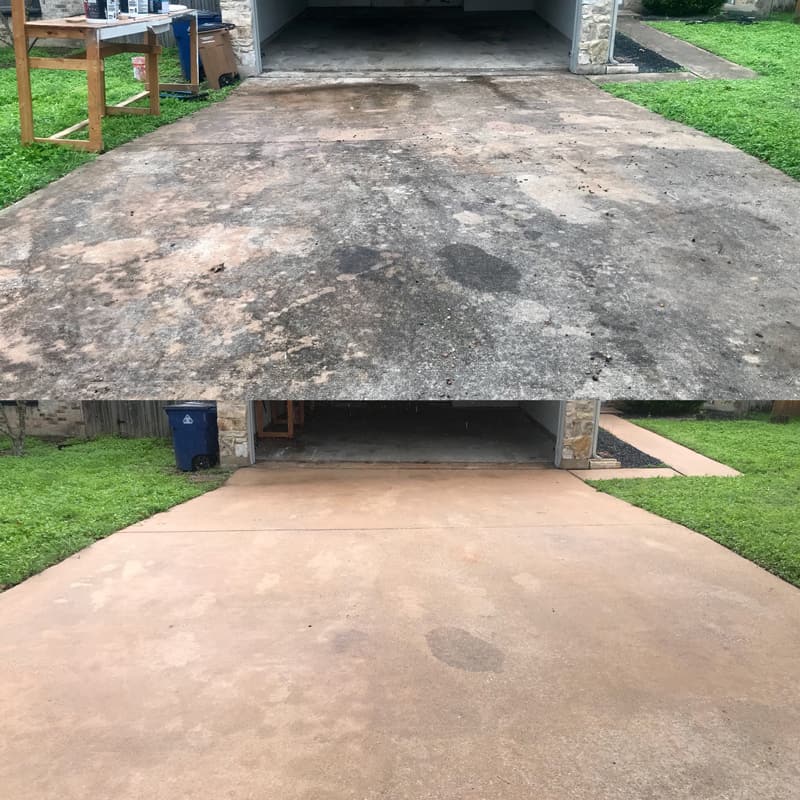 Hydrocarbons and the
"Ole Hot Rod"
When it comes to inorganic stains on driveways, the most common would be hydrocarbon-based stains. Let's use the "Ole Hot Rod" example to list the most common hydrocarbon stains:
"This hot rod is your baby, and you tinker with it constantly, adding upgrades, doing maintenance, and making her shine. Although you try to catch every ounce of oil, a little gets on your garage/driveway or a hydraulic hose pops. You quickly add some kitty litter to the new stain and pressure wash the remains away, but unfortunately, you're still left with a dark shadow. Next, you finally got her up and purring so you want go for a test drive. Fire up the engine and light the tires up, leaving a beautiful burnout down the driveway. You tried to remove this tire trail with a pressure washer, but the stain won't budge. Finally, you've given up on the stains, but you're ready to show her off at the local car show. You meticulously scrub every square inch by hand and finish by bringing those tires back to life with some shine. When you get back from the car show, you realize that not only do you have the dark oil stain, heavy tire marks, but also a new stain in the shape of a half-moon where your hot rod parks. This stain is from tire shine overspray, a silicon-based product that sealed your concrete and again, can't be removed with your pressure washer or even the degreaser you bought from your local hardware store."
We have the experience and have used 100's of different degreasers, with 100's of techniques, most of the time on our own driveway, recording every result until our process became perfected. Clean Green Power Washing knows that even within the realm of hydrocarbons, every stain is different—from substance to the substrate to the duration of stain. Equipped with an arsenal of eco-friendly hydrocarbon removers and state-of-the-art superheated water systems, rest assured that Clean Green Power Washing is prepared to tackle the toughest of oil stains. So, celebrate your clean driveway with a BBQ, and even if cooking grease gets spilled on your back patio, Clean Green Power Washing is there for you too!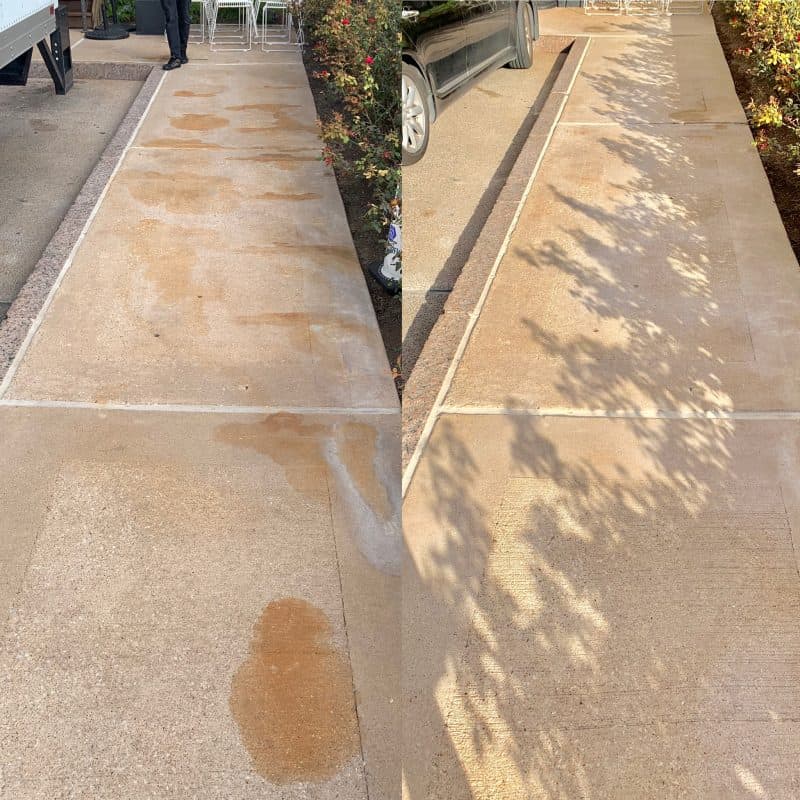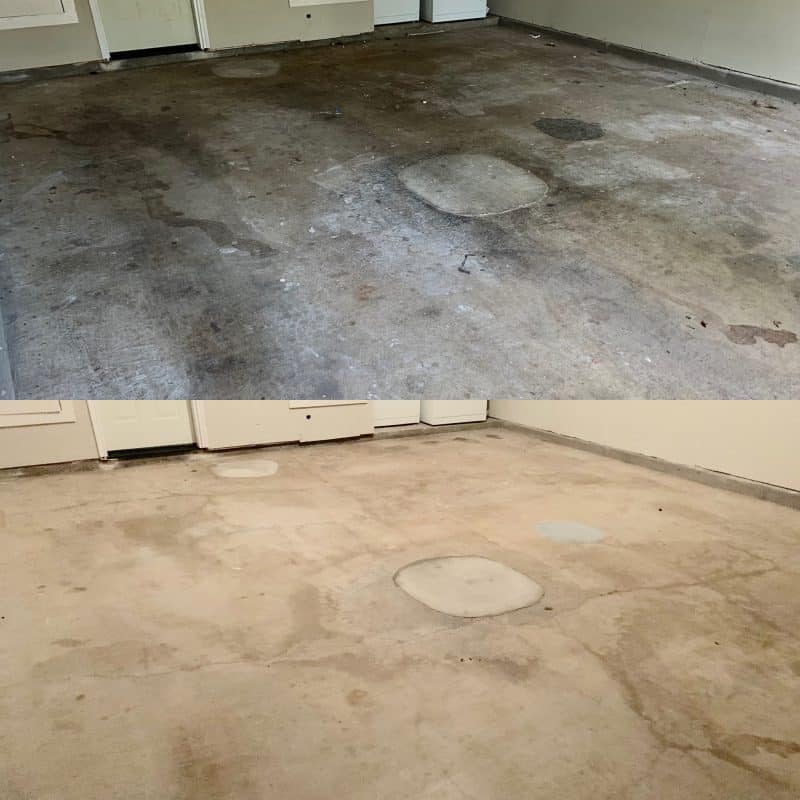 Rust Removal with the
Power of Science!
The final illusive inorganic stain commonly found on concretes is rust or a variation of iron oxide. We know that rust is orange and derives from oxidized metals, mainly iron, but rust stains aren't always as obvious as a piece of old metal rotting away in the rain. Sometimes, a mysterious orange stain will appear out of nowhere and can manifest in many different shapes, tones, and textures. This is when Clean Green Power Washing becomes more than a pressure washing company. We become Rust Detectives! To properly identify any rust stain, we must observe our surroundings, follow the clues to determine where the stain came from, what cleaning process to use, and provide a solution so the stain does not return. This practice comes from years of experience distinguishing the subtitles within each rust stain. Whether the rust is from direct metal contact, transfer of water, iron sediment found in clay, iron pyrite deposits in natural stone, high iron content in well water feeding irrigation systems, iron sediments in fertilizers, or leakage from lead acid batteries, Clean Green Power Washing can neutralize and restore it!
Clean Green Power Washing knows that restoring rust stains entails more than just removing the stain. In order to clean these stains, we have to fully understand where it derived, its chemical composition, and the proper solution to break down and neutralize the stain. In most cases, breaking down metal oxides involves flawless chemistry, using multiple solutions with radically different alkalinities. You will never see our technicians carelessly spraying raw caustics and acids that stay active, destructively continue to etch your concrete and produce toxic fumes that can harm your family.
At Clean Green Power Washing, we keep the safety of our technicians, your surface, and your family top priority. We carry a variety of SDS approved industry standard solutions designed to specifically target inorganic stains with buffers that eliminate toxic fumes and neutralize PH balances. If you have a tough concrete stain that you thought or were previously told could never be removed, call our specialists to give you more than an explanation, but a safe stain restoration and a solution to prevent its return.
Professional Concrete Cleaning in Austin by Clean Green
When it comes to curb appeal, your driveway, walkway, and porch are the first thing that guests notice. From newly uncured white slabs to rich red brick pavers, they all take a beating from natural elements and the not-so-natural man-made elements. Austin power washing professionals at Clean Green are trained in stain recognition and know the exact process to clean and restore the beauty of your concrete. If you have years of dirt and organic growth blanketing your driveway or a tough concrete stain etched into your garage, trust the specialists at Clean Green Power Washing to give you more than an explanation, but a safe stain restoration and a solution to prevent its return.
Contact us for a free pressure washing quote or give us a call at (512) 662-8422!