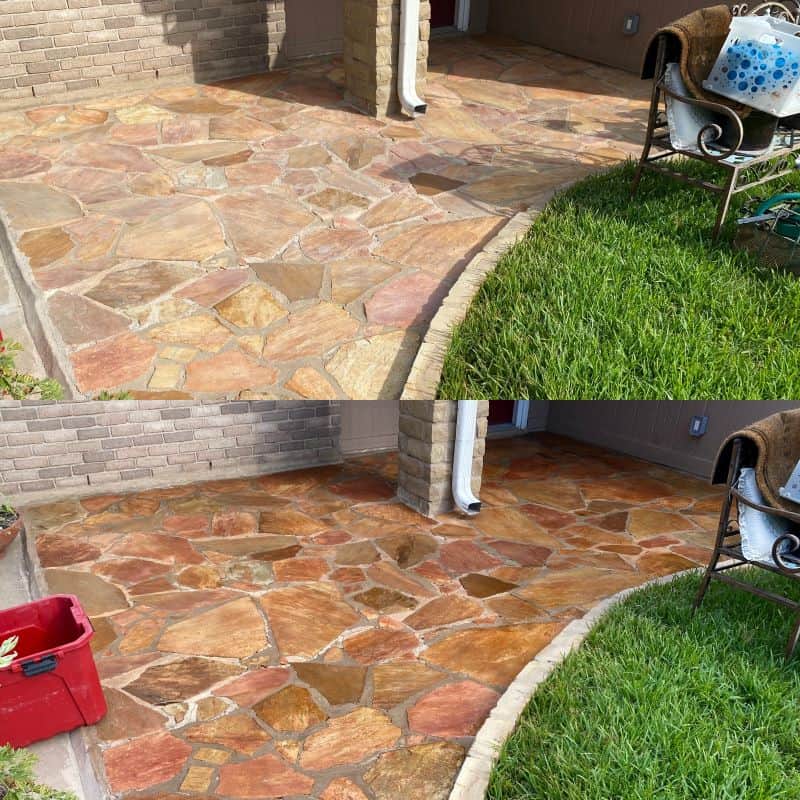 How to keep your Austin investment clean and decontaminated?
Now that your driveway, patio, or pool area is clean and disinfected from deep dwelling dirt and grime, how can you prevent returning contamination? First, make it a habit to pressure wash your concrete and natural stone surfaces regularly. Organic growth thrives on moist environments that stay relatively cool such as shaded flat surfaces made of porous materials. Second, contact a knowledgeable and certified pressure washing contractor to seal your surfaces correctly. Concrete and natural stone are especially porous and even when the topical surface is dry to touch, water can seep deep within, resulting in perfect incubation substrates for mildew, algae, fungus and airborne bacteria.
Some of these bacteria and fungi, such as Gloeocapsa and lichen, contain properties that further hold moisture and carry acidic properties to root themselves and consume calcium carbonate rich surfaces. This process can be destructive and, if left untreated, can result in permanent discoloration or cracking, so sealing your porous surface is critical. Sealants create waterproof barriers, allowing water to bead and evaporate, instead of absorbing and keeping the substrate moist and cool. Specialized sealants can also target specific algae strands that can populate with minimal moisture by the use of nano-silicone beads to densify the surface.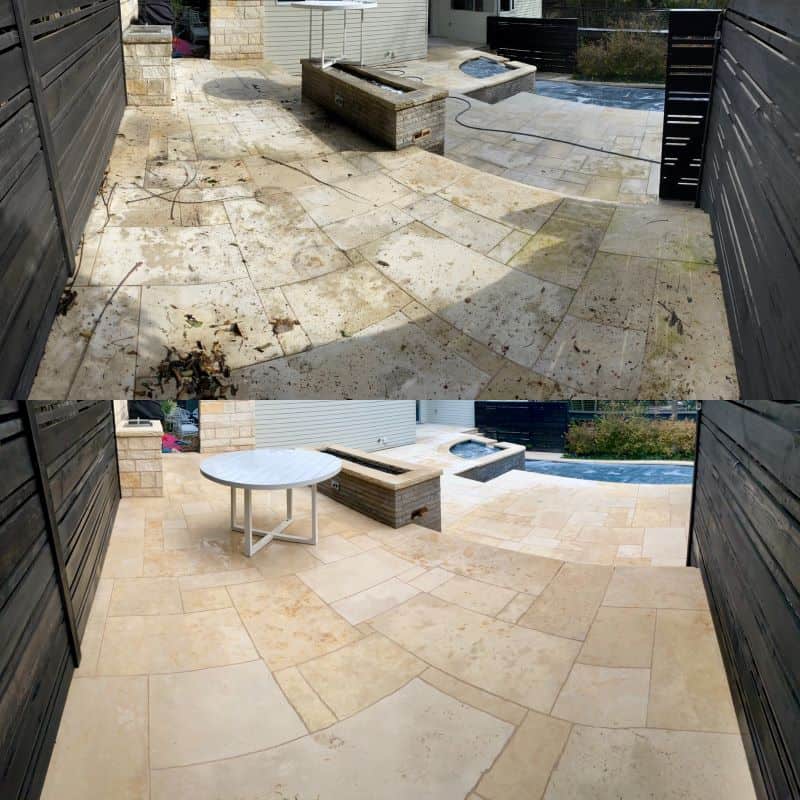 What can specialized sealants do for you?
Sealants also provide more benefits than waterproofing and organic contamination prevention. Specialized sealants designed for your specific needs can also prevent inorganic stains, structural deterioration, or enhance the natural beauty of your surface. Inorganic stains derive from man made elements, such as salt water or calcium pools that can erode copings and leave streaking white hard water stains. Other inorganic stains include hydrocarbon or oil based spills on concrete driveway/garage floor. Densifying sealants can also be used to strengthen and prolong longevity of weakened surfaces such as flacking Arizona flagstone, slate, or crumbling limestone walls.
Regardless of the stain or structural integrity, specialized sealants can target reoccurring issues that provide longstanding results, not only the day a surface was restored. The use of enhancing sealers enrich the beauty of colored materials such as Chicago brick stairs, paver driveways, or quartzite decks. Color enhancing sealers come in many varieties with different properties that cater to your unique needs and make your investment unique.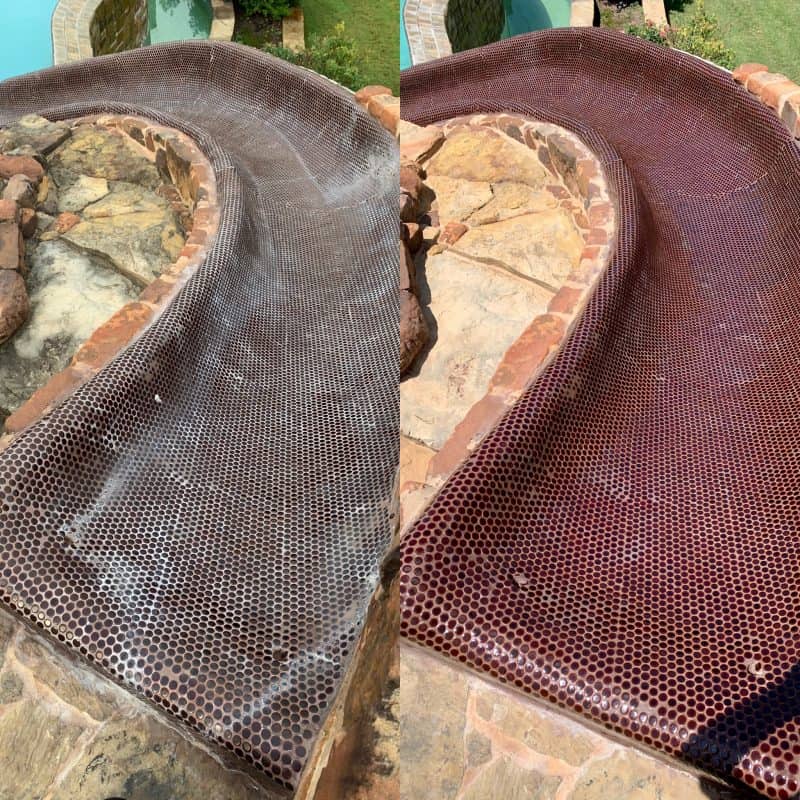 The truth about sealing?
Almost everyone has at once had a negative connotation of sealing due to a neighbor's or friend's bad experience. Even pressure washing companies and other exterior contractors have been heard to say "never use sealants". But why? In most cases, it's because the sealant applicator wasn't fully educated in the product they chose to use. Every surface is unique, just as every desired expectation is, and so should the sealant that gets paired with said requirements. There is not one sealant that fits all needs. The applicator must be educated in a wide array of versatile sealants that provide appropriate properties.
From completely invisible silicone-based sealants designed to penetrate and prevent green algae to slippery acrylic film-forming sealants designed to enrich tiled pool slide and reduce friction, there's an appropriate sealer for each instance. If a cheap generic box store sealer is the only option for every scenario, then inevitable mismatches are made, resulting in slippery, discolored surfaces, and neglected flaking sealants that only last a year. It is important to note, that a sealer is not a forcefield, which allows for hands free upkeep. Even when a surface is sealed, if left unmaintained, the breakdown of topical debris such as dirt, pollen and leaves can still leave stains, but are unable to penetrate and further the hierarchy of more destructive organic growth. Sealants will keep your surface healthy and limit contamination, but simple measures, such as sweeping, blowing or using a garden hose to keep topical debris off will help keep areas clean.
Why choose Clean Green Power Washing?
Clean Green Power Washing is a solution-based pressure washing company in Austin. One that not only demands satisfaction from the day of initial cleaning, but also strives to provide results that will last for the long run. The reason other pressure washing companies will tell you not to seal, is because they want repeat business with a paycheck that beats year to year. We believe in transparency, and are built on honesty. If there is a solution that will meet your specific needs and provide extended durability, then we feel obligated to inform you. We have been extensively trained in stain recognition, material composition, and sealant identification in order to know when sealing services is a good fit. The sealants we use are as unique as our patrons, and we vow to earn your trust by applying high quality sealants that protect, enrich, and enhance your investments for years to come.
Fill out our online form or give us a call at (512) 662-8422 to receive a free pressure washing quote and discuss how Clean Green can help leave your home or business squeaky clean and disinfected.