Austin's Trusted Pressure Washing Company
Austin's leader in residential and commercial pressure washing services. When we clean it, we mean it. From organic to inorganic, there is no stain we can't remove. From wood to natural stone, there is no surface we can't restore!
Why Choose Clean
Green Power Washing?
At Clean Green Power Washing, perfection is our passion! When we clean it, we mean it, every nook and cranny, even the areas you'll never see. We offer a 100% satisfaction guarantee and have made it our mission to become absolute pressure washing experts. We love what we do, and strive to use the most innovative equipment, insuring your property is not only safely cleaned, but fully decontaminated and healthy. We treat every project, from big to small, like it's our own and provide specialized techniques designed to meet your unique needs with results that are unmatched. As a trusted local small business, we know Austin. From the locally sourced materials builders use, to the specific strands of algae, fungus, and bacteria which accumulate on them. Our professionally trained technicians are stain recognition experts, who know exactly where they came from, how to treat, restore, and provide long-term solutions to prevent return. We are more than a pressure washing company, we are leaders and innovators within our industry, who consider the environment first within each business decision. We vow to lower our footprint by designing green equipment and offering eco-friendly cleaning solutions. Thank you for stopping by and allow us to show you when it comes to quality, honesty, and reliability, Clean Green Power Washing is Austin's preferred pressure washing company for residential and commercial services.
"Beyond impressed with the results. Had no idea how a solid power washing could completely transform the exterior of our home…worth every penny!"
Residential and Commercial Pressure Washing Services
Transparent Pricing
Clean Green Power Washing offers full transparency without any runarounds or hidden fees. Free quotes are provided over the phone or in-person and set up like a "Lunch Menu", giving the customer the ability to pick and choose the services they feel comfortable moving forward with. Any additional costs are presented upfront, so they know exactly what's coming out of their pocket and are never mislead.
100% Satisfaction Guarantee
No cutting corners, ensuring that your house will be cleaned the right way for improved appearance and durability. We offer a 100% Satisfaction Guarantee and strive to meet your approval with results that can be trusted. Perfection is our passion, and we won't leave until you're completely satisfied. Even if you do give us permission to leave, we give you 30 days to inspect our work and will return at a moment's notice to ensure your expectations are fully met.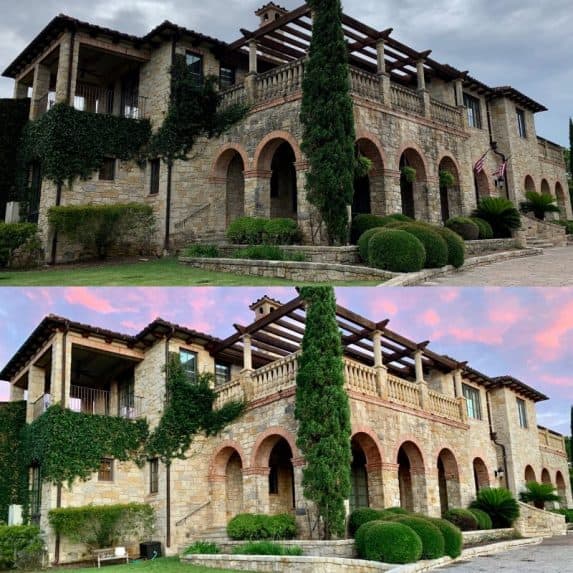 More Than A Pressure Washing Business…
Clean Green Power Washing is a platform whose sole purpose is to push the standards for what it means to leave no footprint. We vow to keep the Earth happy and your garden healthy by using eco-friendly solutions that are bio-degradable and use innovative washing methods that will restore your home without causing any damage.
Clean Green Power Washing will ride the road of progression towards clean energy paved by the community in which we've invested in. As our business grows, we intend to keep the momentum going towards green energy by one day creating the first commercial pressure washer to harness its energy from the sun instead of gas. Until then, we will continue to contribute a portion of our sales to local non-profits that support combatting climate change and promise to do all that we can in our power to restore your home without harming the environment.
Get Started
Join the momentum towards a clean and green planet. Take advantage of our best value service and feel confident that every house cleaned brings us closer to Austin's first zero footprint pressure washing company. Make the Clean Green Choice