Residential & Commercial Pressure Washing Services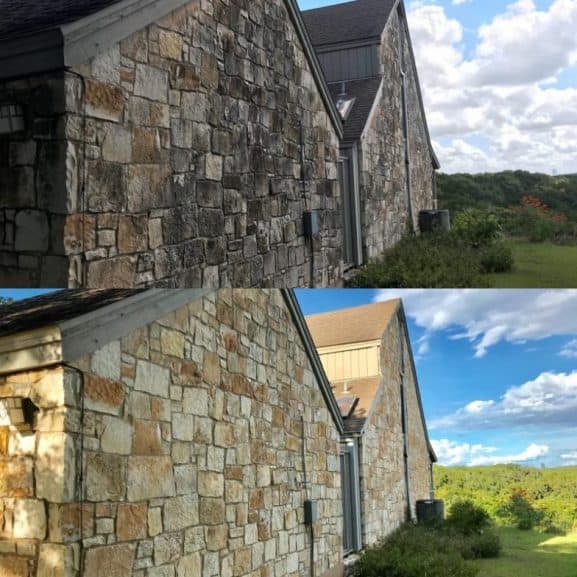 Our technicians at Clean Green Power Washing love what we do! There's no better feeling than witnessing night and day transformations right in front of our eyes. We hold our standards high, and treat your home like our own. When we clean it, we mean it! Our technicians are meticulous in detail and clean every square inch of your home. In order to get mind-blowing results, we have to know our industry in and out, we have to be pressure washing nerds! We enjoy the challenge of dissecting each stain before we even unreel our hoses. From heavy organic lichen stains that dwell within the porous natural stone substrates to orange inorganic clay stains leaching into underpinnings from high iron content in our soil, Clean Green Power Washing has a solution for every exterior stain.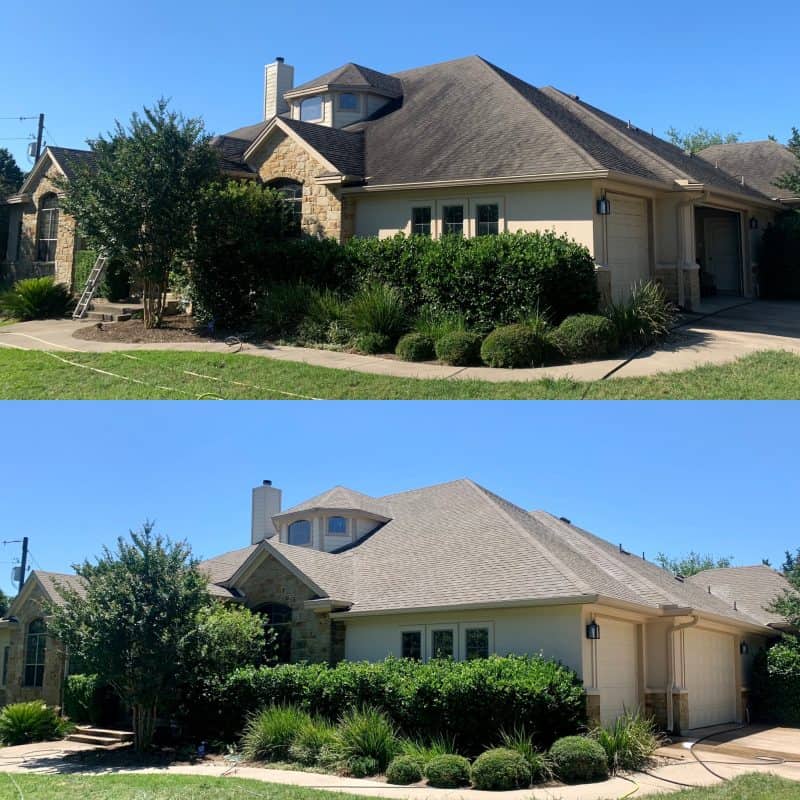 At Clean Green Power Washing, we never use high pressure on roofs and operate with designated low pressure/high volume systems to clean and disinfect your roof safely. Rest assured that you will never see our team struggling to maintain footing on a steep pitch or trampling over delicate tiles, because the majority of our roof soft washes can be done from the ground or ladder. Each one of our ladders operate with adjustable footing and secured stabilizer bars so that our technicians are safe and your gutters are untouched. Our innovative system proportioners allow us to control the quantity of industry standard surfactants and precisely apply each incline with consistent solution. During the application process, our team of professionally trained technicians will be constantly protecting all areas subject to overspray. Lastly, after a period of solution dwell time sufficient to lift heavy organic growth, our team works together and goes the distance to thoroughly rinse your roof with pressure equivalent to a household garden hose. This final process not only ensures that your roof is left spotless and decontaminated of deep dwelling fungal roots, but also completely free of our eco-friendly cleaning solution. When looking for a pressure washing company to clean your roof, trust Clean Green Power Washing; specialist in extending the life of your roof and keeping your family safe.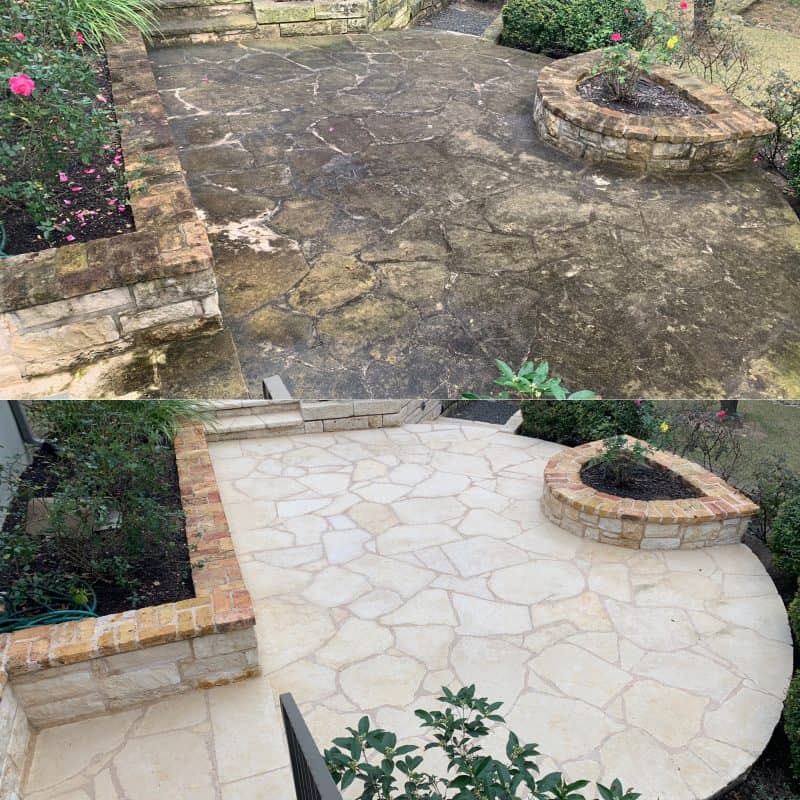 Your backyard is special and can be your private escape, your own personal slice of the greenbelt, surrounded by towering oaks, pecans and guarded by dense cedars. You've made your personal paradise unique, from elaborate limestone decks and walls sourced from local quarries, to rich slate, quartzite, and flagstone varieties paving poolside. From treetop balconies lined in travertine to Saltillo tile and Chicago brick courtyards, natural stone structures are more than beauty, they are also major investments. At Clean Green Power Washing, we have experience working with every type of natural stone, and fully understand each's physical properties. In order to get the job done right without damage, we use a hybrid method, and utilize the best of both worlds. When looking for a pressure washing company to restore your natural stone, trust  Clean Green Power Washing; specialist in keeping your backyard getaway healthy and clean.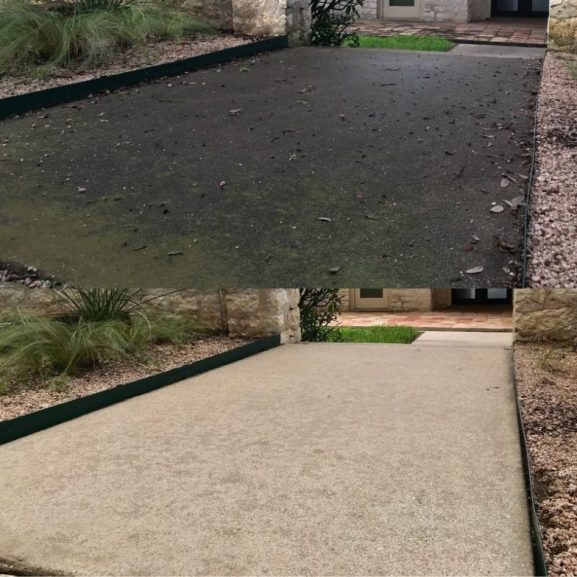 When it comes to curb appeal, your driveway, walkway and porch are the first thing that guests notice. From newly uncured white slabs to rich red brick pavers, they all take a beating from natural elements and the not-so-natural man-made elements. The professionals at Clean Green Power Washing are trained in stain recognition and know the exact process to clean and restore the beauty of your concrete. If you have years of dirt and organic growth blanketing your driveway or a tough concrete stain etched into your garage, trust the specialists at Clean Green Power Washing to give you more than an explanation, but a safe stain restoration and a solution to prevent it's return.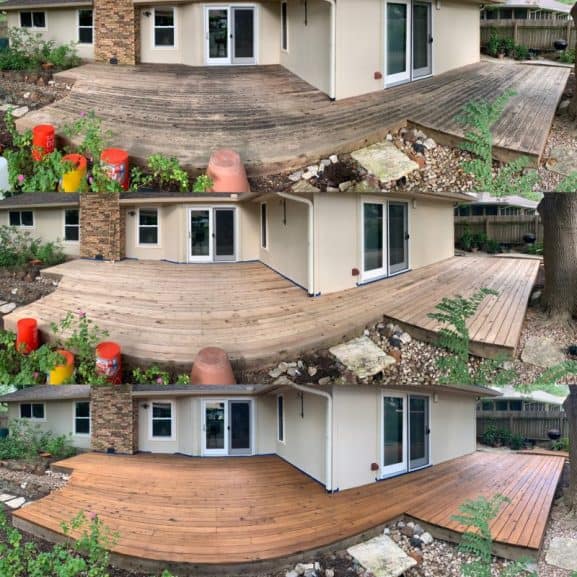 Clean Green Power Washing is not one of those bleach slinging, spray-and-go kind of companies. We take pride in our work with results that are designed to last, not destroy. The actuality of wood cleaning is that it's not pressure, it's not heat, it's not bleach, it's pure chemistry! Every project is unique, and that's why we carry 7 different eco-friendly, non-bleaching chemicals with a variety of multi-step processes to clean, restore, refinish, and maintain your investment. Clean Green Power Washing has the knowledge and experience to tackle any wood project. We are thoroughly confident in knowing the correct solutions to apply, and the right process to restore your wood because it's how we treat our own personal wood projects.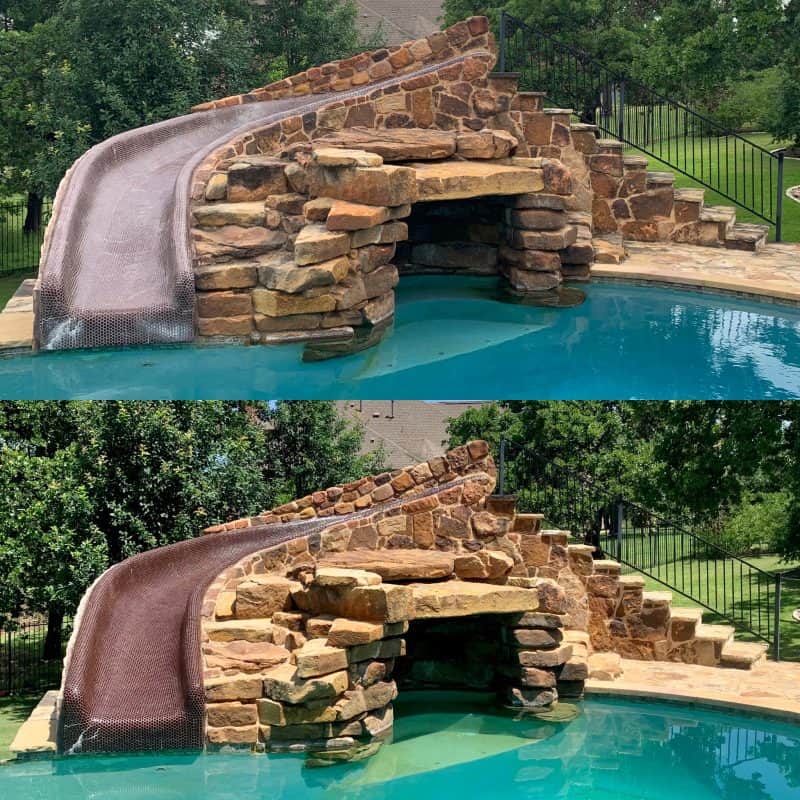 Clean Green Power Washing is a solution based company, one that not only demands satisfaction from the day of initial cleaning, but also strives to provide results that will last for the long run. The reason other pressure washing companies will tell you not to seal, is because they want repeat business with a paycheck that beats year to year. We believe in transparency, and are built on honesty. If there is a solution that will meet your specific needs and provide extended durability, then we feel obligated to inform you. We have been extensively trained in stain recognition, material composition, and sealant identification in order to know when sealing is a good fit. The sealants we use are as unique as our patrons, and we vow to earn your trust by applying high quality sealants that protect, enrich, and enhance your investments for years to come.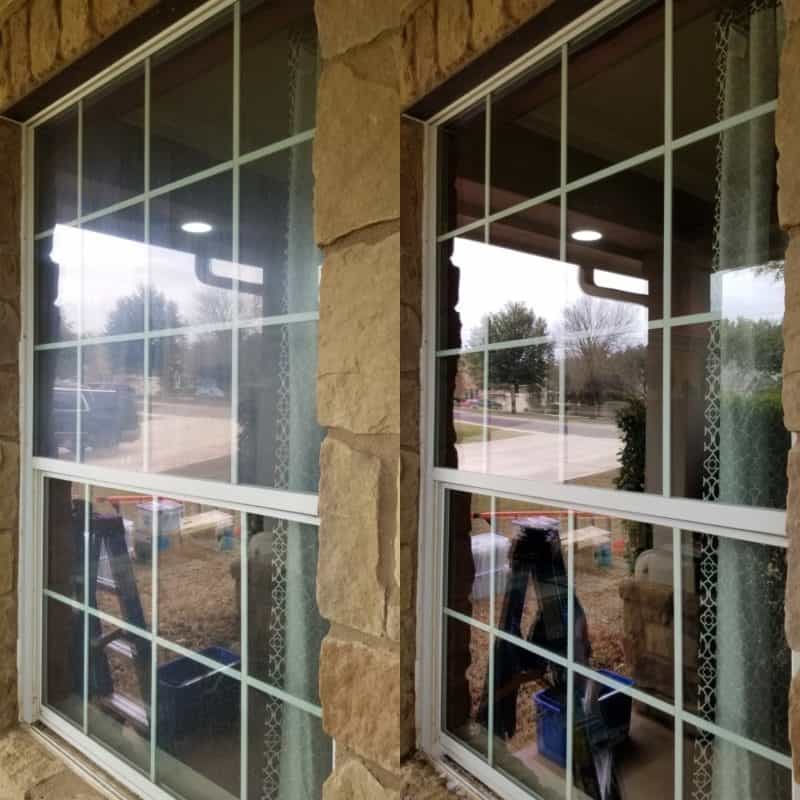 At Clean Green Power Washing, we love what we do! We take pride in our work and strive to provide our customers with the best possible service—that is why we offer professional window cleaning services for residential and commercial properties. Our highly trained technicians will clean and disinfect your windows, using eco-friendly and high-quality cleaning products and advanced techniques to ensure your windows are spotless and sparkling. We understand that your home or business is your most valuable asset, and we will treat it with the utmost care. The difference between us and other power washing companies is that we are also committed to providing our customers with a clean, safe, and beautiful environment in addition to their property.