Professional Pressure Washing Services in Bee Cave
If you have ever considered pressure washing to clean your Bee Cave, TX, home, it is essential to understand a few things before you begin. The main fact to keep in mind is the difference between pressure washing and soft washing. Many homeowners contact us for a pressure wash but are surprised to find that soft washing is the method that is actually right for their property. If you are searching for an honest, professional company with significant expertise to power wash your house, consider our services.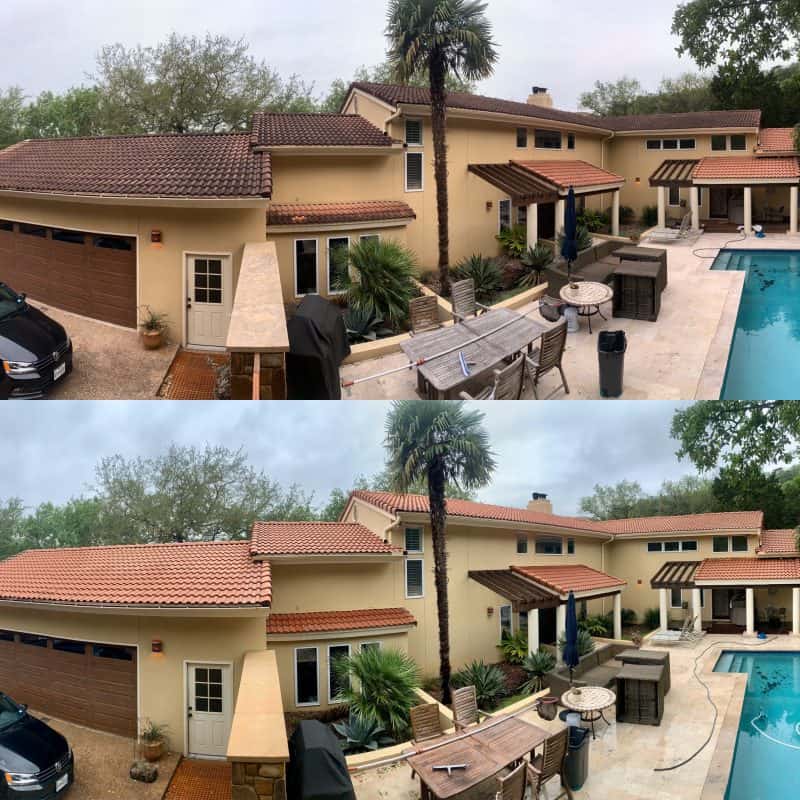 Soft washing is a process that uses low-pressure and eco-friendly solutions to clean your home. In fact, the hoses deploy around the same amount of pressure as a garden hose. High-pressure can damage your home, while the soft washing method can produce the same cleaning results without the damage. Soft washing also includes a cleaning agent. Other companies use harmful chemicals that can damage your home and the environment. At Clean Green, we use only effective, eco-friendly cleaning agents during our soft washing services.
Pressure washing is a commonly used method for cleaning concrete and flat surfaces. Pressure washers use about 25 times the amount of pressure as a garden hose and are incredibly effective at removing grime from strong surfaces. However, if the surface is varied or has cracks or crevices, pressure washing could damage the entire structure. Our experts know just how much pressure to use for each job so that you get high-quality results without damage to your property.
Whether your outdoor space is made of limestone or materials such as slate, quartzite, or flagstone, our experts at Clean Green know how to clean them. These materials are deceptively delicate and are more porous than most homeowners realize. Natural outdoor substances such as pollen can make their way into these materials over time and grow exponentially from inside the stone. A regular cleaning is necessary to maintain the appearance and longevity of your natural stone areas. Many of these materials are used for patios and pools, where pollen and other organic growth can present a slipping hazard to your family. With our special techniques, we can have your outdoor areas looking like new and safer for your family.
Organic growth does not discriminate between specific materials and can easily grow on manufactured areas such as concrete and sidewalks. As with other natural materials, dirt and debris collect on these surfaces. Over time, the natural weather patterns here in Texas create a breeding ground for the bacteria to multiply. This leaves your sidewalks and driveways looking dirty and old. With a quality, eco-friendly pressure wash from Clean Green, your concrete will be looking as good as new in no time.
Staring at an old, dirty fence or a beat-up deck is not fun. These areas are affected by the same natural processes that affect natural stone and concrete. The trick to restoring wooden materials is to clean gently with low pressure, no bleaching solutions and reseal to keep further damage from happening. At Clean Green, we understand the differences between types of wood and the best products to use to restore them to their original glory.
Properly sealing outdoor surfaces can slow down or prevent the spread of damaging natural materials, and therefore interrupt the process that makes your exterior look old and dirty. Algae and fungi can easily grow on porous surfaces, and sealant prevents them from getting in. At Clean Green Power Washing, we believe in sealing surfaces when we can to keep your home looking clean and new for years.
Windows are an important part of your Bee Cave home or business's exterior, and they can make a big difference in their overall appearance. However, windows can also get dirty and grimy over time, which can make them look unsightly. If you are looking for a way to clean and disinfect your windows quickly and easily, our window washing service is the answer.
For power washing services that are tailored to your home's unique needs, reach out to the experts at Clean Green Power Washing today!