Professional Pressure Washing Services in Kyle
Living in Kyle, Texas, gives you the best of everything. The beauty of nature is all around, and you can easily find solitude and peace in the Kyle area. However, when you're feeling like the big city is calling, Austin is just a short drive away. Living in Kyle is certainly a privilege, and most residents take pride in their homes. If your Kyle, Texas home could use an aesthetic boost, it may be time to consider power washing. Many people think of power washing as a high-powered, potentially damaging process. Still, at Clean Green Power Washing, we use both pressure washing and soft washing techniques to preserve the integrity of your home. Where other companies have a one-size-fits-all policy, we tailor our services to your home's specific materials and your desired results.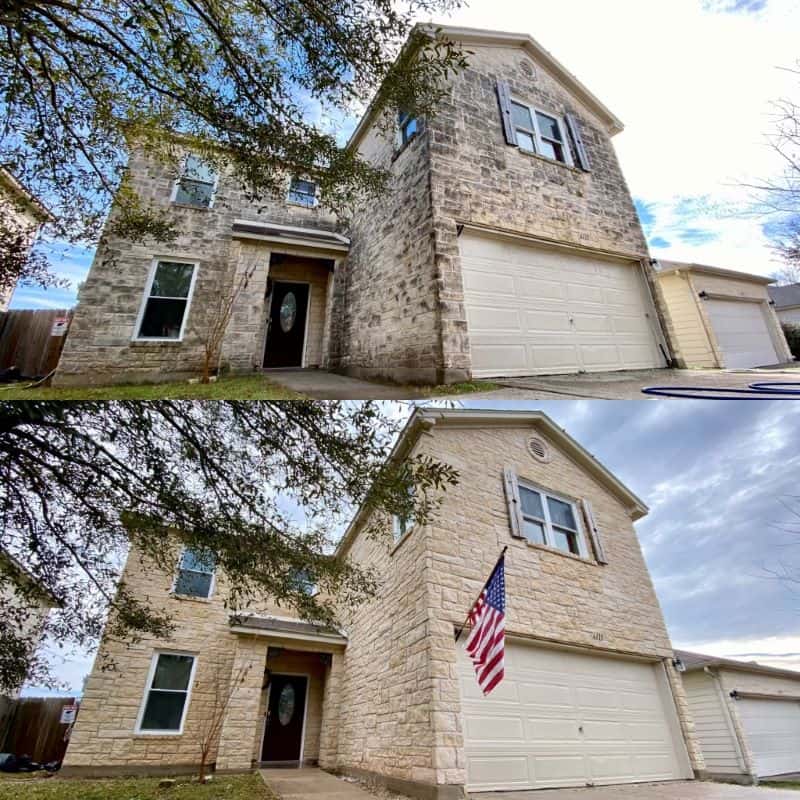 Soft washing is a safe and gentle way to clean the exterior of a home. This happens by using high water flow at a pressure that is similar to a garden hose. Mixed with our eco-friendly washing solution, this method deeply cleans your exterior without the damage of a pressure washer.
Pressure washing certainly can be used with stronger materials such as concrete. In this process, we use pressure that has 26 times the power of a garden hose to blast organic growth and algae from the pores of the concrete. The experts at Clean Green Power Washing know exactly how much pressure needs to be used for your specific building materials.
One of the great perks of living in Kyle, Texas is the access to local limestone and natural products like slate and quartzite for building patios. Despite their beauty, these materials are porous and therefore vulnerable to organic growth. Algae and mold can grow in the pores from fallen debris and pollen, making the stone look dirty and old. These same materials can create a slipping hazard and pose a risk to individuals with allergies. The pros at Clean Green can easily get your limestone or other natural stone cleaned and safe for you and your family.
Concrete is a popular choice for outdoor spaces, but similar to natural stone, it is a fairly porous material. This means that debris can easily make its way inside, and mold, fungus, and algae can grow. When these organic materials multiply, it gives the whole surface an unsightly and dirty appearance. A good wash from Clean Green can get your driveway or sidewalk looking like new.
Well-made wooden fences and decks are a common sight in Kyle. However, these wood projects begin to show wear and tear after only a few years. Rather than replacing your wood, consider having it properly cleaned and sealed. You'll find that this simple process is an easy, cost-effective alternative to replacing he wood and protects your investment for years to com
Our services are no good if your yard begins to look dirty soon after we leave. This is why we recommend having us seal your surfaces. This prevents dirt, debris, and organic material from getting into the pores of your surfaces and causing unsightly and dangerous growth. This simple process keeps your yard and home looking clean for much longer and protects you from having to waste money on repeat cleanings.
To maintain your Kyle, Texas home, trust an expert to help you clean your roof, fence, patio, and deck. When your home's exterior could use a little love, Clean Green Power Washing can have it fixed up in no time. Reach out today — we're the best in Kyle.