Professional Pressure Washing Services in Cedar Valley
Residents of Cedar Valley, Texas take pride in where they live. Because this area of Texas is historical, traditional, and all-around beautiful, homeowners have a special obligation to keep their properties looking nice. There are many ways to go about caring for your property, from maintaining landscaping and gardens to updating your home's fixtures and details. One major way to care for your property is to keep it clean.
While it's likely that you regularly clean the inside, don't forget that the outside needs some love too. In many situations, keeping the exterior of a home clean involves power washing the facade to ensure that it looks like new. However, not all power washing companies and services provide the same type of cleaning, and it's best to understand some essential points before calling to have your exterior pressure washed.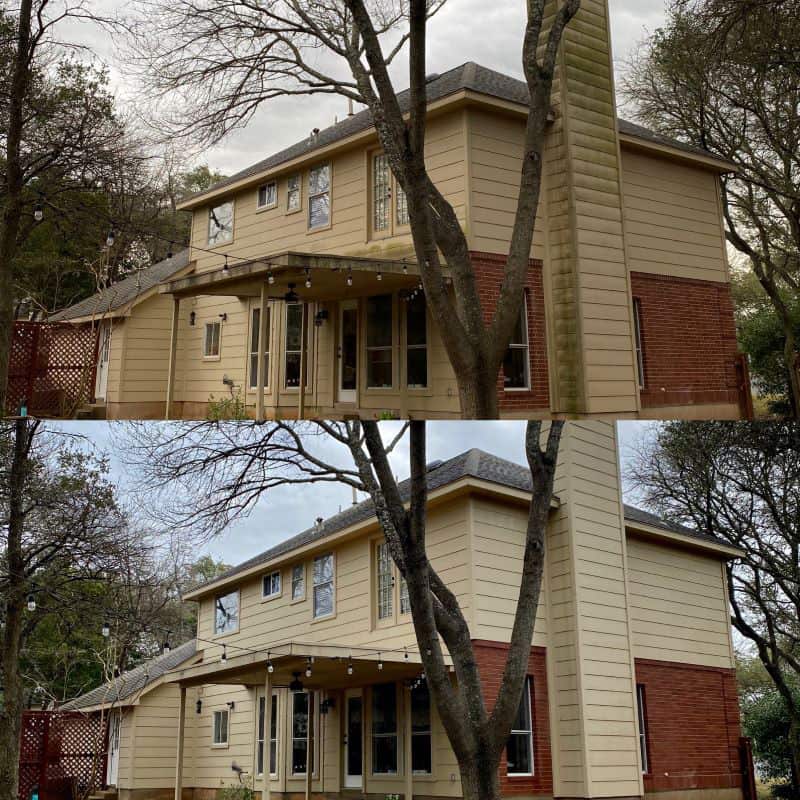 Most people have heard about pressure washing and equate it to a deep clean for siding, pavement, and decks. In some cases, this is true, while in other cases, pressure washing can do more damage than good. Pressure washing involves blasting water at a surface at a pressure of 4000 psi, or about 26 times more pressure than a garden hose. This pressure is meant to blow off debris and dirt from the surface and leave it clean. This is a great method for smooth surfaces such as concrete.
However, most homes in the Cedar Valley Area are made of uneven materials such as stone and brick. For these homes, pressure washing only stands to damage the material and create cracks and unnecessary stress to the home's exterior. In these cases, soft washing is more beneficial. Soft washing uses pressure equivalent to a garden hose, but adds an eco-friendly solution that helps to fully clean the area while reducing wear and tear on the home.
The debris and bacteria that accumulate in the fibers of your fence and deck have the potential to cause serious damage. Left uncleaned, this organic matter can easily grow into the kind of mold and rot that can destroy your home. A lot of these organic substances cause significant issues for allergy sufferers and can make your home uninhabitable if left for too long. Cleaning your wood surfaces is not just an aesthetic project, it is for the benefit of your home and family's health.
For decks and fences, we recommend soft washing followed by the appropriate sealant. Soft washing gets the grime and growth out from the crevices of the wood with soap rather than pressure, ensuring that the wood stays strong and intact. Sealing the wood once it's clean helps to minimize the organic material that can find its way inside and minimizes the frequency with which you need to have it recleaned.
Many power washing companies want you to believe that sealants are not effective. In reality, these companies simply want to continue reaping the rewards of you hiring them for repeat jobs. Sealants reduce the dirt and grime buildup on your deck, fence, or landscaping fixture and eliminate the need for frequent cleaning. We at Clean Green know that sealants are effective when done properly, which is why we provide quality sealing services to our clients. We know that one sealant is not appropriate for all occasions, so we're fully trained to find a sealant that will work for your specific needs. Though this service reduces the frequency with which you'll need to hire us, our bottom line is ensuring that your home and investments are properly protected and that we've done the job right.
Contact Clean Green
For the very best in eco-friendly pressure washing that preserves your investment and protects your home, contact the experts at Clean Green Power Washing today. We promise to give you an honest, holistic plan of action that will help to preserve your home, and our planet, for years to come.